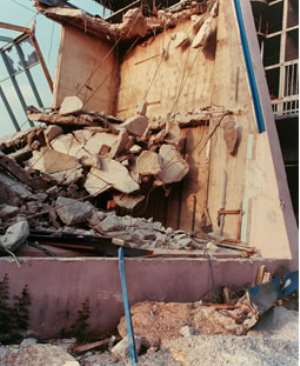 Pandemonium broke out at Kejetia Terminal in Kumasi on Thursday when the middle section of a two-storey building suddenly collapsed.
The incident which happened in the afternoon affected 40 stalls and shops and although there were no casualties, all merchandise in stock were destroyed.
The terminal which is the hub of business and commercial activities in the metropolis has around it two-storey buildings housing shops and stalls.
Mr Amankwaa Gyawu, Member of Kejetia Store Owners' Association and an eye witness told Ghana News Agency (GNA) in Kumasi that the cause of the disaster was still uncertain.
However, he said cracks on the walls and floors of the building and the impact of a heavy metal bill board on the roofs of the building could be a possible cause.
Mr Gyawu said executives of the association after detecting the cracks notified Kumasi Metropolitan Assembly (KMA) who had oversight responsibilities over the building but alleged that no action was taken until the disaster occurred.
Meanwhile, the affected traders have appealed to the public, philanthropists, National Disaster Management Organization (NADMO) and government for assistance.