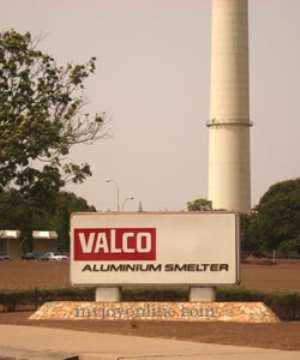 Listen to Dr Kwabena Donkor
A former Chief Executive Officer of the Bulk Oil and Storage Company, BOST, Dr. Kwabena Donkor has called for the immediate removal from office of the Energy Minister.
The call follows the approved but botched sale of government's 70 percent stake in Volta Aluminium Company, VALCO, the aluminum smelter to two supposed investors.
Parliament last week Friday approved the 70 percent sale of VALCO to International Aluminium Partners, a consortium said to comprise VALCO, Norway's Norsk Hydro and Companhia Vale do Rio Doce of Brazil, however the two partners have since denied any interest in or commitment to any Valco deal.
Dr. Donkor, spokesperson on Energy for the National Democratic Congress, says the failed deal is an embarrassment for the nation, it amounts to misleading parliament and also a manifestation of incompetence on the part of the government for which reasons the Energy Minister, Felix Owusu Agyapong must be sacked.
"Whoever brought this to parliament, the Minister of Energy under whose auspices this was brought to parliament knew that an agreement had not been signed. Where are we rushing this in the lame duck period of President Kufuor's stay in power? Are we so incompetent we don't know when an agreement is ready to be presented to parliament? Or do we have other motives which blind us to due diligence? The embarrassment to the good people of Ghana. Somebody must resign, the Minister for Energy must resign!," he told Joy News.
According to Dr. Kwabena Donkor, the denial of the two supposed partners in the deal which was expressed in a specific agreement presented to parliament for ratification, showed definitely that there was something fishy about it.
"There are two major issues here; the issue of deception – misleading parliament and then that of incompetence. This is not the first time the good name of Ghana has been dragged into the mud by the incompetence of the present regime. We had the CNTC deal, we had the hairdressing salon deal, …in international business you have a situation where companies may express initial interest that would enable them to look at the books. They would only initial an MOU in order to give them an opening into the books of the entity. Once they look at it then they take a decision. And in this instance both companies, after a preliminary look decided that this is not good enough."
Meanwhile, the Chief Executive Officer of VALCO, Dr. Charles Mensah has stated that even though the Norwegian company has opted out of the deal, the Brazilians are still in talks and may likely come on board.
A Memorandum dated October 28, 2008 on the deal signed by the Minister of Trade, Industry, private Sector Development and President's Special Initiatives, Papa Owusu Ankomah, for Parliament's consideration and approval valued the deal at US$175.5 million.
The house subsequently approved the deal by acclamation.
Story by Isaac Yeboah