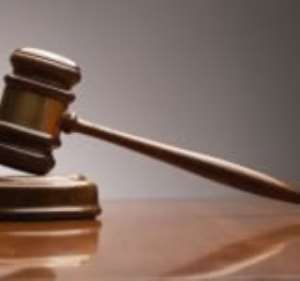 The Tema circuit court "A" on Thursday remanded 11 members of Tema Development Corporation (TDC) taskforce for assaulting two journalists of the Daily Graphic who were performing their official duties.
They pleaded not guilty to assault and causing damage to the digital camera and shirts of Mr Mark Anthony Vinorkpor, a Reporter and Mr Samuel Adano, Cameraman.
The 11 would re-appear on Monday, November 17.
Police Chief Inspector Adolphus Octhere told the court, presided over by Mrs. Lauren Owusu that, on October 22 this year at about 1:15 pm the two journalists were on their way for a programme and took photographs of the taskforce demolishing wooden kiosks and structures which had "remove" written on them at Tema Community Four.
He said the taskforce prevented Mr Adano from taking pictures but he insisted he was performing his official duty and in the process they assaulted him and damaged his digital camera valued at 850 Ghana Cedis, shirt and spare battery.
Mr Vinorkpor who went to verify what was happening also had his share of the assault and shirt torn.
The prosecutor said the two lodged a complaint with the Tema Community Four Police and were issued with a medical form to attend hospital.
The 11 accused persons are Ex W01 Joseph Owusu, Stephen Eshun, Alfred Nana Ampah, Francis Adjei, Charles Douga and Isaac Duncan.
The rest are Razaak Mamudu, Abraham Adamu, Samuel Osei, Andrew Ackon and Roy Mireku.
They were being represented by Mrs Brendlyn Aikins.