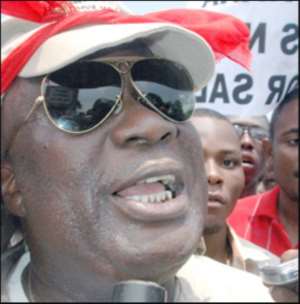 Members of Kofi Wayo's comatose United Renaissance Party (URP) in the Ashanti Region have dumped the party for the ruling New Patriotic Party (NPP), leaving the loudmouth founder gasping for breath.
  Wayo, who has gained notoriety for political prostitution, is crying foul alleging that the defection of its Ashanti Regional Chairman, Alhaji Gambo Baba, and some 10,000 members to the New Patriotic Party was being influenced by the incumbent.
He maintained that the defection of the members would not affect that party in anyway, since the URP was firmly on the ground across the regions.
However, the reality is that Wayo's party is nowhere to be found as its Nima office serving as its headquarters is now a warehouse for market women.
With no structure on the ground to support his presidential ambition, Kofi Wayo was left with no option than to pitch camp with the National Democratic Congress (NDC), making it the third party he has joined within the last four years.
Citing the reasons of their defection, Alhaji Baba told Joy FM, that the good policies implemented by the NPP motivated them to join the ruling party.
He stated that the capitation grant, school feeding programme, and the National Health Insurance Scheme were some of the achievements of the NPP, and added that the ruling party has realistic programmes to develop the country.
Alhaji Baba however dismissed allegations of inducement as reasons for their defection.
"This is not a matter of stomach politics, nobody has given us anything," he said, adding "when our leader Kofi Wayo was campaigning for the National Democratic Congress (NDC), did you ask him whether he collected money from the party."
He stated that the defection from the party marked the demise of the URP.
But Kofi denied joining the NDC, explaining, he was only helping them to win the December polls, even though he was part of the NDC Greater Accra Regional rally held at the Mantse Agbona in the Odododiodioo constituency at the weekend.
According to Wayo, the URP decided not contest the December polls for fear of violence that might erupt, adding "I don't want to kill anybody because I want to be president."
Wayo had defected from the NPP to join Edward Mahama's People's National Convention (PNC) for the 2004 polls and later quit to form the URP as its leader and founder before throwing his weight behind the NDC.
Interestingly, he is joining the NDC alone as the members say they have their own political careers to pursue. By Esther Awuah