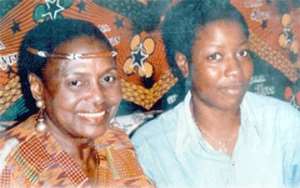 Tears welled up in Foussena Djagba's eyes last Monday as she touched the brown Italian-made hand bag containing a partially-used bottle of Montana perfume and brought the items out from the wardrobe where they had been safely tucked away since March 2001.
The bag and the bottle of perfume were gifts of appreciation from the late great South African songstress, Miriam Makeba to Foussena in Sirte, Libya where the entertainment and sports promoter had helped put together a concert, featuring Makeba, for the 5th Extraordinary Summit of the Organisation of African Unity (OAU).
The news of Makeba's death last Monday at the age of 76 after being taken ill near the southern Italian town of Caserta, brought an end to what Foussena regarded as an extremely cordial relationship between two African women of different generations.
"She introduced me to several people, including Thabo Mbeki and Nelson Mandela, as her granddaugher from Ghana. She was a very lovely person," Foussena said to Showbiz.
She first met Makeba in February 1997 when her company, Fouss Promotions, was organising a concert to mark Ghana's 40th independence anniversary and she wanted Makeba to be part of the show.
"I heard she was going to be at a music festival in Cote d' Ivoire in February. After confirming her participation with the organisers I went with a film crew to meet her.
She granted us a good interview and promised to be in Ghana for the anniversary concert because Ghana symbolised something she highly cherished.
I came back to start publicising the show but then some problems started coming in from her manager who was a young Italian called Roberto.
"He was not there when we discussed her fee and other details. Makeba herself was not bothered about how much she was going to get paid. She said the money was not an issue for her and that she would be happy to grace the occasion with her presence. She, however, asked me to call her manager and talk to him. She had a lot of respect for him though he was less than half her age."
Makeba's manager, according to Fouss, kicked against the arrangement. He insisted the money Makeba had agreed to was too small and that she was not going to be in Accra. His stance generated an argument between the two.
"I told Roberto he did not understand what was at stake because he was white and he should stay out of black people's affairs. He might have been hurt by that because the negatiations became tougher after that and I had to contact officials at the national anniversary secretariat to step in."
After some amount of to and fro, the knots were ironed out. But Makeba could not make it for March 6 because of an already agreed schedule else where so she came in and performed a week later.
Foussena remembers that Ambassador Gbeho, who was part of the anniversary planning committee, went over with her to see Makeba and apologise to her for the fracas with her manager.
"She was staying at the SSNIT apartments at Cantonments. I took along an 'I'm sorry' card and a bouquet for her. She started about my exchange of words with Roberto when we entered so Mr Gbeho told her to just regard me as a daughter and forget about whatever wrong I had done to Roberto.
"She started crying and said 'Come, come my daughtter.' She held me and I also cried. She said Roberto had been hurt by my words and that I shoud try and apologise to him personally. I went over to Novotel with Mr Gbeho, met him and everything was fine from then on.
The concert itself came off at the International Conference Centre. Other acts on the show were Sonti Ndebele from South Africa, the Tagoe Sisters and Gyedu Blay Ambolley. This is how a local newspaper saw Makeba's performance on the night.
"Performing before an elated audience, Makeba, 65, defied old age and overweight and twisted and bumped on stage in a manner reminiscent of her hey day. 'Mama Africa' as she is popularly called, completely awed the audience with a display of incredible stage act."
"People enjoyed the show," Foussena said. "We kept in touch and that was why I was able to get her, with some assistance from Prof Mark Duodu who was then Director of Ghana Television(GTV), when the Libya programme came up in 2001. She had a very tight schedule shuttling between the United States, France and South Africa but she gave me contact numbers to reach her wherever she was."
A Togolese promoter who had the contract to organise the entertainment for the Libya Summit got in touch with Foussena to help bring Makeba on board. She had been associated with the struggle for independence on the continent and personally knew Kwame Nkrumah, Tom Mboya, Sekou Toure, Samora Machel and others.
"The Libya meeting was going to be the last African Heads of State Summit under the wings of the OAU before the name was dropped for the African Union (AU). The entertainment organiser wanted Makeba at all costs because it was a symbolic time in Africa's political history and Makeba herself was happy to be there.
"Gaddafi conferred a special honour on her at the concert. The South African delegation were surprised at it because they were not aware of any such thing going to happen.
When Mbeki and Mandela asked her about it, she jokingly said they should ask me to explain because it was my connection.
"We shared the same room and slept on the same bed in Sirte. We were together all the time and she told me a lot of tales about African leaders she knew and about life generally. People asked if I was her chaperone and she told them I was her granddaugher.
"She knew Monday-born Ghanaian girls are called Adwoa and that was how she referred to me. I told her I was also Togolese but she said 'How could you be organising independence anniversary concerts in Ghana and not be known by a Ghanaian name? We are all the same people whether­­­ from Togo, Ghana or South Africa.'
"She did not want anybody to know that it was her birthday on March 4 while we were in Libya because she did not want to bother anybody. I managed to surprise her with a cake, some flowers and a bottle of champagne. She loved it whenever she was treated with respect because she also respected people, no matter who they were."
Makeba gave Foussena the bag and perfume when they were parting in Libya. Foussena said she reciprocated with a piece of kente cloth. The two women kept in touch and Foussena wanted to bring her back to Ghana in 2005.
"She said she would have loved to come but she was just a tired old woman who needed to rest. She gave the world what she had and I'll always remember her as my grandmother from South Africa," Foussena said clutching her precious hand bag from the continent's supreme diva.
Story by Nii Laryea Korley