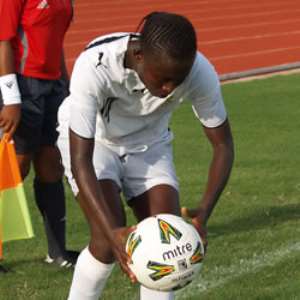 Ghana's female national team has arrived in Equatorial Guinea ahead of the 7th African Women's Championship on Saturday.
The Queens touched down in the capital Malabo on Wednesday and received a massive support from the Ghana High Commission and from the Ghanaian community.
The Black Queens, clad in their Puma apparel, were also met on arrival by government officials of Equatorial Guinea.
After going through the accreditation process, the team quickly moved for the first training session where they were cheered on by Ghanaian fans.
Coaches Mumuni Gamel and Ben Forkuo put the team through a light training to shake off fatigue after three hours of travelling.
Skipper Adjoa Bayor who has played in all the six editions of the top flight continental tournament was thrilled by the support they received from Ghanaians in Equatorial Guinea.
The America-based midfielder is confident that with the support they can break Nigeria's stranglehold on the tournament.
"We are challenged to make an announcement on Women Football in Ghana by annexing the AWC Trophy for the first time," Bayor said.
"The end to the Nigerian dominance is now."
Nigeria, South Africa and Tunisia who are in Group B along with Ghana have all flown in and will play their matches in Bata.
In Group A, host, Equatorial Guinea would play against Cameroon, Mali and Congo-Brazzaville in the capital, Malabo.
The tournament kicks off on November 15 and runs till November 29.
Ghana's Squad:
Memunatu Abiba Suleimana (Ghana Post), Aminatu Ibrahim (Ghatel Ladies), Ama Saabi (Fabulous Ladies}, Grace Asare (Prisons), Patience Kpobi (La ladies), Florence Okoe (Ghatel Ladies), Safia Abdul Rahman (Ghatel Ladies), Shiela Okine (Ghatel Ladies), Diana Ankomah (Ghatel Ladies), Adjoa Bayor (Ghatel Ladies), Gloria Foriwaa (Ghatel Ladies), Olivia Amoako (Ghatel Ladies), Yaa Avoe (Fabulous Ladies), Rumatu Tahiru (Athleta Ladies), Letecia Zikpi (Ghatel Ladies), Gladys Quansah (Ghatel Ladies), Faisah Ibrahim (Ghatel Ladies, and Portia Boakye (Fabulous Ladies).
For more Ghana football news visit www.ghanasoccernet.com