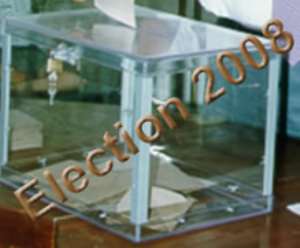 Tension is building up in the Central Regional Capital, Cape Coast, following the invasion of some macho men at the University of Cape Coast(UCC).
Supporters of the two leading political parties, National Democratic Congress (NDC) and New Patriotic Party (NPP), early this week engaged in some skirmishes over the transfer of votes by some students of the UCC and the Cape Coast Polytechnic.
Information available to Joy News indicates that the macho men were allegedly brought in by some executives of the NPP to counter the NDC youth in the area.
They were bussed in with two vehicles with registration numbers GE 4322 Y and GR 9341 V respectively.
The District Inter-Party Advisory Committee (DIPAC) has advised that a new centre should be allocated on UCC campus for the students but this has not gone down well with the other parties especially the NDC.
"This decision by the DIPAC is yet to see the light of day as the NDC says that was not the agreement because all the parties with the exception of the NPP did not agree with the creation of a centre at the UCC campus," Joy FM's Richard Kojo Nyarko reported.
The Constituency Chairman of the NDC, Elvis Christian Amoasah said the party has hinted the police of their displeasure and cannot rule out any unfortunate occurrences if the EC goes ahead to create the centre.
He maintained that the students do not necessarily live at Cape Coast and it was wrong for other people to decide the choice of a parliamentarian for the people of Cape Coast.
He explained that after the imposition, the students would go to their various constituencies and they the indigenes, would be left to suffer the inefficiency of whoever is elected, if he or she happens to be the wrong choice.
Meanwhile, the Central Regional Director of Electoral Commission, Samuel Tettey, said the EC has approved the request by the UCC for the creation of a centre and has asked the NDC to send agents to the new Centre.
In a related development, the Central Regional Police Commander, ACOP
Kwame Kamparah, said his outfit is keenly monitoring the situation.
"The Minister of Interior has directed that aspiring MPs should be given some kind of protection," he noted.
Bodyguards, he said, would however not be provided for the parliamentary candidates. They have rather been asked to provide their itinerary so that the police can properly monitor their movement and protect them accordingly.
Story by Isaac Essel