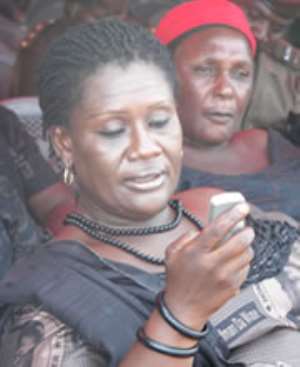 Frances Awurabena Asiam, until recently a vice Chairperson of the Democratic Freedom Party (DFP), and now a campaigner for Nana Akufo-Addo, presidential candidate of the New Patriotic Party (NPP) says she has no regret resigning from the DFP.
She said the DFP has no chance of winning the general election, hence her decision to pitch tent with Nana Akufo-Addo, who she described as a forerunner in the election.
She also condemned the assertion that she was a "political prostitute", explaining that those who hold that view do not understand contemporary politics.
Ms Asiam announced to journalists at Sunyani on Sunday at the sidelines of a campaign tour to canvass for votes for Nana Akufo-Addo.
The former DFP member who now leads a campaign movement known as "Campaign for effective leadership" held a ral1y at the GNAT Hall at Sunyani where she addressed hundreds of party youth made up of students and first time voters.
She said the main objective of her movement is to provide an extensive campaign support for the NPP Presidential candidate to ensure he becomes Ghana's next President.
"Through targeting his focused and pragmatic messages reflecting his vision and mission to floating voters, youth, women's groups and other stakeholders, we hope to ensure that majority of the citizenry will surely cast their votes for Nana Akufo-Addo in the interest of accelerated national development", she said.
Noting that fundamental to the above are the NPP flag-bearer's commitment to continue with President Kufuor's sound policies as the National Youth Employment Programme, National Health Insurance Scheme, Capitation Grant and School Feeding Programme, Ms Asiam said Nana Akufo-Addo's vision of transforming Ghana, in terms of modernised agriculture, structural transformation of Northern Ghana through the channeling of one billion US dollar to the Northern Development Fund and another one billion US dollars to the industrial sector are laudable goals.
"The innovative, creative and challenging free senior high school concept is also a feather in his cap", she added.
Asked during the media briefing how she was financing the campaign, Ms Asiam who looked emotional said she was a self-made business woman who can do the funding all alone.
She, however, stated that she was not yet a card bearing member of the NPP but only a sympathiser to Nana Akufo-Addo's cause.
Ms Asiam was a former National Women Organiser of the opposition National Democratic Congress (NDC) but resigned from the party in 2005 together with some leading members to form the DFP.
She resigned from the DFP on October 15, citing personal reasons and the need to canvass for the NPP Presidential candidate.