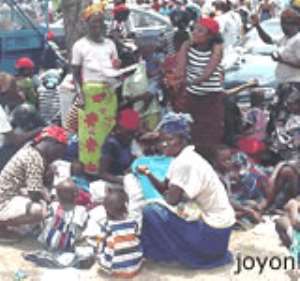 A lecturer at the University of Ghana, Legon, has called for effective education on pre-credit and post-credit activities for women in the rural areas to enable them to understand how the financial market operates.
Dr. Irene Egyir of the Department of Agriculture Economics and Business of the University, urged micro-finance institutions (MFIs) to assist women entrepreneurs in the rural areas to manage their micro-economic activities.
He made the call at a workshop organised by Christian Mothers' Association, a community-based organization, and BUSAC Fund, under the theme: "Improving Micro-Finance Services for the Rural Women in Ghana", in Kumasi on Wednesday.
It was attended by 50 members of the association, drawn from the various Parishes of the Kumasi Arch Diocese of the Catholic Church.
Findings of a research carried out by the association with support from BUSAC Fund, aimed at improving the financial standing of women in the rural areas, were presented at the workshop.
Dr. Egyir, who was the leader of the research team, observed that many MFIs had closer contact with people in the urban centres than their counterparts in the rural areas.
She urged government and development partners to intervene to mitigate the effects of high interest rate being charged by MFIs on credit to women entrepreneurs.
She also called for structural support for farming, the main activity of most rural women entrepreneurs, to reduce the risk associated with rain fed agriculture.
Mrs. Elizabeth Addai-Boateng, National Secretary of the association, said that the group sought to support members and other women and children with funds.
She appealed to government and non-governmental organizations (NGOs) to assist the association to realise its objectives.
Madam Love Lucy Adu-Minnah, Ecclesiastical Provincial Organizer of the association, appealed to members to unite and work harder for the progress of the group.
Mr. Anthony Kofi Dwumah, Operations Manager, Sinapi Aba Trust, advised women who acquired loans from financial institutions, to reduce expenses on personal belongings and invest in economic activities.