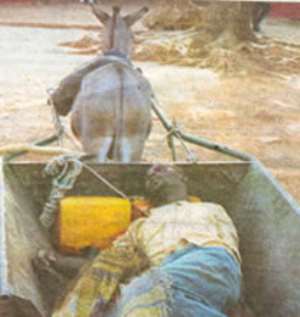 Parties in the Bawku conflict have made significant reconciliatory moves, raising hopes of finding a solution to the conflict.
A meeting in Accra last Thursday between members of the National Peace Council (NPC) and a four-man delegation from the Mamprusis was described as very fruitful, in view of the reconciliatory posture of the delegation.
"For the first time, we felt that things are softening a lot. People are now talking in reconciliatory terms, which is good," a member of the NPC, Maulvi Wahab Adam, said when he briefed the Daily Graphic on the outcome of the meeting.
The Bawku municipality and its environs have remained under a state of emergency for a long time since the conflict began this year.
People living in the area have lived under an IS-hour curfew at one point in time. Currently, four and five-hour curfews have been imposed on Bawku and Gushegu, respectively.
The conflict is reported to have unleashed a serious negative economic impact on the people because what used to be a busy market in Bawku, a border town between Ghana and Burkina Faso, on one hand and Ghana and Togo, on the other, has now become desolate.
Maulvi Adam, who is also the Ameer and Missionary in charge of the Ahmadiyya Muslim Mission in Ghana, said the Bawku conflict was very complex, in view of the many inter-marriages between the Kusasis and the Mamprusis.
He said the NPC had had discussions with the Bawku Naba, the Nayiri, as well as opinion leaders, political leaders, traditional rulers, youth organisations, religious bodies and market women, in its efforts at gathering information for the resolution of the conflict.
Maulvi Adam said although the NPC had had many of such meetings in Bawku, Bolgatanga and Accra, the latest meeting was very significant in the sense that some of the opinion leaders in the Kusasi area felt that it was important to talk to representatives of the Nayiri because he, as the overlord of the Mamprusis, also held the key to the resolution of the conf1ict.
He said after all the discussions, "we are going to make one crucial effort of bringing both parties together because we want them to engage each other in discussions and negotiate".
"We hope and pray that things will move well," he added.