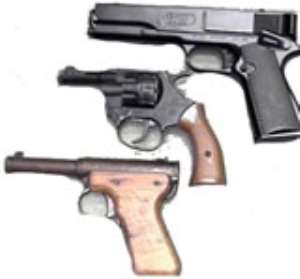 A security and small arms expert, Mr Emmanuel Sowatey, has cautioned that reports that some people, particularly the youth, are being armed to foment trouble during the December 7 elections pose a serious threat to the peace and security in the country.
He has, therefore, called on the police and the other security agencies to act decisively to deal with the situation, while calling on the general public to report any person involved in illegal arms dealing.
"In this election year, the availability of small arms has the potential of heightening tension, undermining peace initiatives and prolonging conflicts," he cautioned.
Allegations are rife that some youth groups in certain parts of the country are being armed to cause trouble during the electioneering period.
This gives much cause for concern, in view of the nexus that the ECOWAS Convention on Small Arms draws between human security and small arms proliferation in terms of the perpetration of human rights abuse, the generation of conflict and the establishment of a culture of impunity.
It is to nip such danger in the bud that the Police Administration cautioned this week that it was illegal for anyone to carry any weapon, lethal or non-lethal, licensed or unlicensed, to polling stations or electoral centres on December 7.
The list of banned weapons include all forms of pistols, pump action guns, single and double-barrelled guns, locally manufactured guns, jack knives, machetes, kitchen knives, forks, petrol bombs, stones, clubs and non-lethal weapons such as pepper sprays and perfume sprays, as well as any other adapted implement that could be used to cause bodily harm.
"Everybody should do what he or she can to make sure that we reduce the availability of small arms," Mr Sowatey said.
He said although the security agencies were doing well in trying to address the problem, they needed to do more to effectively deal with the situation.
He said one way to help the police to deal with the situation effectively was to ensure that people who owned small arms registered their weapons "because one of the ways of controlling small arms, particularly in civilian hands, is for the state to have a handle on the numbers".
He further urged those who had registered their weapons to endeavour to renew their licences annually.
Mr Sowatey said it was important for the police to act swiftly on information on small arms, adding that they must endeavour to protect informants at all times.
He stressed the need for a free, fair and fast justice system that was accessible to prevent the situation where people acquired weapons to protect themselves and sought justice.