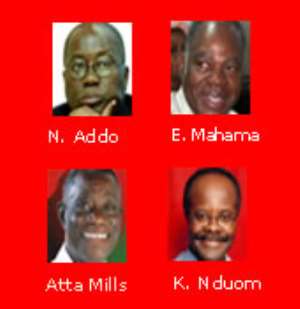 Presidential candidates of the four political parties with representation in Parliament will have more time to answer questions in the Tamale debate than they had in the first.
The flag-bearers of the ruling New Patriotic Party, the main opposition National Democratic Congress, the People's National Convention and the Convention People's Party will clash at the Gilbert Centre in the Northern Regional capital today in the final of two debates.


The governance think-thank, Institute for Economic Affairs, organisers of the programme with Joy Fm, said the candidates would have the opportunity to debate each other on the issues than the questions-and-answers format that characterised the Accra encounter.
The IEA said the changes have been made in accordance with recommendations from the first debate.
A research fellow at the IEA Papa Kow Acquaye told Joy Fm the Gilbert Centre, venue for the event, is set for action.
"We'll give the candidates more time to debate the Ghanaian instead of being a mini shouting match."
"There will also be opportunity for the candidates to directly speak to the people who are outside the hall listening to the debate," Mr Acquaye stated.
The first debate which was held at the Kofi Annan Peace Keeping Training Centre in Accra, allowed candidates very limited time to engage each other, responding more to questions from moderators.
Many viewers and listeners of the first encounter thought the CPP leader, Dr Kwesi Nduom did better than the other debaters.
A platoon of reporters from media houses across the country have already converged at the centre to carry the event live to millions of Ghanaians expected to watch on television and listen on radio.
According to Joy FM's strong team of reporters covering the event in Tamale, expectations of locals are high although many think the outcome would not affect who they vote for in the December elections. The high expectations are borne out of a feeling that the region has long been abandonment in the distribution of the "national cake."
Most taxi drivers are said to have tuned in to the local FM station, Radio Justice which is billed to carry the event live. [Listen to attached audio]
Story by Fiifi Koomson