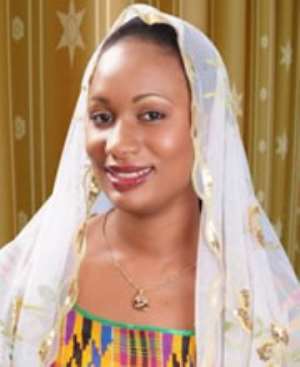 Samira Bawumia, wife of the New Patriotic Party (NPP) vice presidential candidate, Dr. Mahamudu Bawumia, has said even though this year's election would be critical, "it's not a do or die affair".
She was speaking at Juapong and Ho Polytechnic as part of a two-day tour of the Volta Region.
Ghana, she said, is at a threshold of economic transformation, and history will not judge Ghanaians right if they do not vote for the NPP.
Sounding quite emotional, Mrs Bawumia asked, "why don't you vote for NPP, change that now…We are the only party that cares for you".
Though she admitted there are a lot to be done, she appealed to the electorate to vote for Nana Akufo-Addo to continue the good works started by President Kufuor.
She mentioned the School Feeding Programme, the National Health Insurance Scheme, the free antenatal care and asked; "What else do you need from a government that provides you with these programmes?"
Other parties that have promised to continue the programmes of the NPP, she said "are only playing politics…why didn't they do it when they were in power?"
At the Ho polytechnic, Samira said she could not phantom why a professor like Mills did not know what the GDP contribution to the private sector was.
"The last presidential debate, when Nana Akufo-Addo was presenting his ideas of modernizing the country, Mills did not even know what the GDP contribution to the private sector is," she said.
Madam Samira also laughed off the comparison the NDC is making between their presidential candidate Prof. Mills and US President-elect, Barack Obama.
"How can you present a twice defeated person as an Obama of Ghana politics…we have come a long way and we will not jeopardize our future," she said.
Dr. Bawumia's wife was confident that the voting pattern in the Volta Region would change in this year's elections.
Her confidence might have been rekindled by the support she received at both the Ho polytechnic and Juapong market.
She assured them of free and fair elections and pleaded with them to be circumspect in their utterances. "We don't need to fight…look at Kenya and Zimbabwe, we have to be an example for others to follow," she said.
Those who are yearning for power sharing, Mrs. Bawumia said, "It's unconstitutional and it can't happen in Ghana."
She urged the students to be ambassadors of peace and put the country before any political party.
"Don't be used, I say don't be used by any political party to cause mayhem or chaos in this country…Ghana is for the youth and we must protect it," she said.
At the Juapong market, activities came to a stand still, with the people joining in the singing and dancing of the Kangaroo dance. She introduced the MP for the area, Moses Assem, and told the people to give him their mandate and also vote for other NPP parliamentary candidates.
Credit: Kofi Agyepong (ADM)