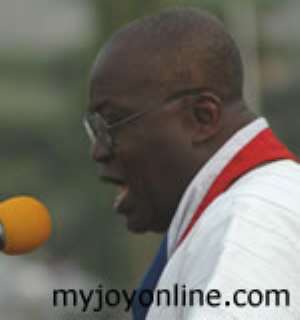 Nana Addo Dankwa Akufo-Addo presidential candidate of the New Patriotic Party (NPP) says a government under his leadership "will unleash the creative potential of Ghanaians and utilise our customs to chart a path to modernisation that will empower the Ghanaian whilst preserving our unique history and traditions".
Outlining his vision for the promotion of arts and culture at the Great Hall of the Kwame Nkrumah University of Science and Technology in Kumasi on Monday, the NPP flag-bearer pledged: "I will, in the presidency, be a firm and certain friend of culture and the arts".
The former foreign minister explained that it is his belief in Ghana and in the Ghanaian that underpins this commitment to ensuring that modernisation and development do not mean westernisation and the loss of our culture.
"We cannot believe in Ghana and turn our backs on our arts, culture, customs, traditions and businesses. They are the very embodiment of our nation.
"A government led by Nana Akufo-Addo will preserve the best of our traditional values – human solidarity and collective welfare, individual liberty and creativity, love of colour and laughter, generosity of spirit and warmth of hospitality – whilst pursuing the modernisation and development that would deliver greater opportunities and prosperity for our people".
Nana Akufo-Addo said the next NPP government will work with educational institutions, traditional authorities, the private sector, families and the public at large to preserve the country's cultural heritage saying.
"In promoting my firm belief in Ghana, my government will work in concert with the country's existing private sector to boost their support for the celebration of festivals as well as actively engaging the private sector in aiding the Centre for Cultural and African Studies, other institutions and identified localities to set up cultural villages that will serve as places of preservation and innovation for our arts and culture."
He said he would strengthen chieftaincy and ensuring the vibrancy, stability and accountability of the institution saying "this great institution plays a pivotal role in Ghana's history and continues to hold such an important place in the hearts and minds of ordinary Ghanaians today".
"I believe the time has come to give chiefs and chieftaincy more resources, a more significant role in our governance and more accountability."
He said his government will create an enabling environment for musicians, writers and poets to get recognition and good value for the work that they do, saying "this will be achieved by improving copyright laws, assisting them with marketing, providing targeted state support for sectors such as the Ghanaian film industry, fostering a lucrative and educative publishing industry and working with our artists of all genres to find new markets and buyers."