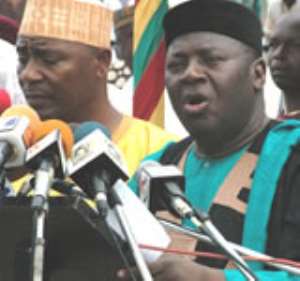 His Excellency Alhaji Aliu Mahama Vice President of the Republic of Ghana
The Country Awards Council will confer a Fellowship Award (A Life Time Achievement Award) of the Ghana National Honorary Awards of Fame, THE CROWN OF THE GNAHAF ORDER OF MERIT OF DISTINCTION IN LEADERSHIP AND POLITICS, MANAGEMENT, ENGINEERING AND SPORTSMANSHIP on His Excellency Alhaji Aliu Mahama, FGNAHAF.
The Ghana National Honorary Awards of Fame (GNAHAF) is an Agency of the Country Awards Council - GH. The Award will be conferred on His Excellency Alhaji Aliu Mahama at the Castle – Osu, at 11:30 A. M. on Friday 14th November 2008.
CITATION TEXT
A leader, manager, politician, engineer, sportsman, public servant, great patriot and one of the few finest politicians in Ghana's politics in recent times! Your skills, attributes, achievements and experiences speak volumes for youth mentoring, worthy of comment, commendation and honour.
From your birth on 3rd March 1946 at Yendi in the Northern Region of Ghana to the second highest Office of the Land; you have approached each new responsibility with energy and dignity.......!
You have served for two terms with distinction as our nation's Vice President of the Fourth Republic and this triumph has brought you immense personal satisfaction. The current position you are holding demonstrates the depth of your experience and the strength of your leadership. In these capacities, and throughout your career, you have demonstrated an unwavering devotion and commitment to leadership, management, youth development, sports, equality, and fairness. Your strongly held beliefs and your faith in the power of human beings to overcome prejudice and live by the rule of law are a beacon for us all. In so doing, you have contributed beyond measure to its greatness. .....Your legacy, however, extends far beyond the number of offices you have occupied, most importantly the second highest office of the land. You have always led by example, showing us the meaning of grace under pressure, of compassion, of integrity, and of honour. You are genuine, original and ever true to your values and principles. .......We are grateful beyond words that you have done so for our country. Few if any in our nation's history have served so often, so unselfishly, and so well. This is a testament to the belief that anything is possible for those who aspire to learn, serve, and lead at the highest levels.
The Country Director of the Country Awards Council, His Awardship Kobla Asamani has described Vice President Alhaji Aliu Mahama as a man who stands for the truth, mindful of his work and a leader who has performed his duty with dedication, integrity and humility.
SIGNED
_______________________
His Awardship Ebenezer Odjawo (Vice Country Director in Charge of the Ghana National Honorary Awards Fame)
Attention Editors: For more information about the Award please contact the Council on 0243128414