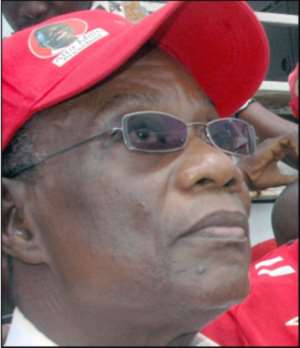 The ongoing voter transfer exercise took a nasty turn in Cape Coast when some heavily-built men, believed to be members of the opposition National Democratic Congress (NDC), beat up some students who wanted to transfer their votes to the metropolis.
Five students had been rushed to the hospital by the time the Electoral Commission (EC) suspended the exercise, with the NDC machomen threatening mayhem.
The machomen, supported by other NDC activists, invaded the offices of the Cape Coast Metropolitan Assembly (CCMA) where the Electoral Commission (EC) had a centre for the transfer of votes, to prevent some students of the University of Cape Coast (UCC) and Cape Coast Polytechnic (C-Poly) from transferring their votes to Cape Coast.  
The incident occurred when a group of students from UCC and C-Poly were allegedly bused to the place to transfer their votes.
It was alleged that some members of the NDC started pushing away some of the students, resulting in five of them sustaining various degrees of injury; but they were sent to the University Hospital for treatment.
Not even the heavy presence of policemen could scare away the rioters as they kept on singing war songs to indicate their resolve to protest even to the point of death.
However, the arrival of military personnel later scattered the angry mob, some of whom said they would not sit unconcerned for the students to determine who becomes their Member of Parliament (MP).
They alleged that the NPP over the years had consistently organised students for mass transfer of votes in the Cape Coast University and Polytechnic, to turn the tide in favour of the ruling party in the metropolis.
The NDC accused the EC of conniving with the NPP to conduct the mass transfer of votes, adding that transfers could only be done individually by students. 

The Regional Director of the Electoral Commission, Samuel Tettey, who visited the scene, indicated that the EC was not in favour of mass transfer of votes by any political party, and gave the assurance that a meeting would be held with the various parties to find a solution to the problem.
The metropolitan EC officer, Anthony Nyame, also assured the irate mob that the EC was against mass transfers and was driving away people who came in groups to transfer their votes, asking them to come individually to do so.
As at the time of filing this report, the exercise had been suspended. From Sarah Afful, Cape Coast