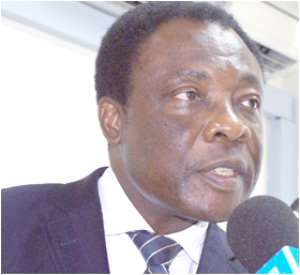 GHANA'S FORMER Minister for National Security, Francis Poku, has lunged at myjoyonline for carrying a false report about events leading to his dismissal by President J.A. Kufuor earlier this year.
Reacting through his lawyer, Raymond Atuguba, Mr. Poku described as untrue, media reports that he was fired as head of security because he displayed sheer insolence and dishonesty at the said meeting with the President; and explained that the decision to relieve him of his post had nothing to do with his professional conduct, attitude or any act of impropriety or dishonesty.
This was contained in a strong-worded statement to myjoyonline signed by Dr. Raymond Atuguba, a member of his counsel and issued by lawyers of Mr. Poku. In addition, counsel asked the 'offenders' to place an unqualified apology on their website and another in the Daily Graphic.
"Our attention has been drawn to the above titled publication which has been on your website in the last couple of days.
"Your publication reported on the proceedings in the Parliament of Ghana on Wednesday the 5th of November 2008, regarding a question posed by Hon. John Mahama, the MP for Bole Bamboi to the Minister for Presidential Affairs and the answer provided by the Minister.
The question related to the circumstances surrounding the deployment of armed personnel to the residence of our client (while he served as the Minister for National Security) in January 2008 and his subsequent departure from the country soon thereafter.

"Your publication proceeded to speculate on some events at the residence of the President immediately preceding the removal of our client as Minister. The said speculations sought to impute lack of professionalism, dishonesty and corruption on the part of our client.

"As you are well aware, these statements are absolutely untrue, and were calculated to tarnish the image of our client. The said statements have caused our client much distress and embarrassment and affected his standing and opportunities amongst his professional and business colleagues.

"We have our client's instructions to request that you execute the following forthwith:
1. To expunge from your website (and from all other media of communication where you may have published them) all of the material complained of.
2.
To make an unqualified apology to our client for the false and malicious statements made against him and to publish same (as well as this letter) through the same media of communication and with the same prominence as was given to the false and malicious statements.
3.
To, in particular, carry the apology (as well as this letter) in the Daily Graphic and on primetime news on your sister network JOY 99.7 FM.
4. To desist from publishing any further false and malicious statements against our client.

"Our client wishes to clarify that the meeting between himself and the President of the Republic of Ghana prior to his removal as Minister for National Security, was completely devoid of any accusations relating to his professional conduct, his integrity, or any acts of impropriety or dishonesty.
Our client discussed matters of policy with the President at that meeting.
The President thought it fit to relieve him of his post, after thanking him for his services rendered to the Republic of Ghana. At no time during this meeting did our client show any disrespect to the President. 

"Our client further wishes for us to communicate to you and the Ghanaian public that he does not own any houses in Trasaaco Valley and that allegations relating to his ownership of landed property in Trasaaco Valley in Ghana have previously been addressed by his daughter, Ms. Mary Poku, an attorney in the United Kingdom.

"Finally, our client wishes to reassure Ghanaians of his commitment to democratic processes, and whilst wishing all the presidential candidates all the best, advise your outfit to focus on the challenges that confront our country in an election year and with the discovery of oil and gas resources.
"If our demands, as outlined above, are not executed within seven (7) days, we will be constrained to commence legal proceedings against you for the purpose of compelling you to do same.
Be accordingly advised."
Meanwhile myjoyonline has since expressed its regrets for the parts of the publication complained of, which it admitted 'suggested rather wildly' what may have occurred at the meeting between the former Security Minister and President Kufuor at the latter's residence.
It would be recalled that about 72 hours after Mr. Poku's dismissal from the security position, his 7th Avenue Extension North Ridge residence in Accra was taken over by combat-ready security agents who prevented people from entering or leaving the house.
The incident generated a huge controversy about whether the security chief was under house arrest; but then Minister for Information, Mrs. Oboshie Sai-Cofie explained the incident as a "debriefing" and "handing-over procedure".
In a later interview with DAILY GUIDE , Mr. Poku hinted that the issue had to do with his exit from government and handing over his portfolio. He said he was prepared to hand over peacefully and would never do anything to jeopardize the reputation and credibility of a government he had selflessly served for the last seven years.
He said he had, however, not concluded the handing over notes when the incident occurred.
Mr. Poku had since been living in England with his family. By Halifax Ansah-Addo