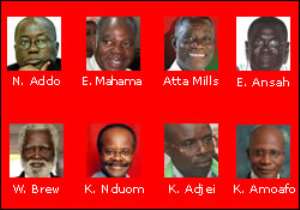 Each of the eight presidential candidates in the December election has been assigned four bodyguards, the Interior Minister, Dr Kwame Addo-Kufuor, told Parliament yesterday.
In addition, all parliamentary candidates have been advised to contact their respective regional, divisional or district police commanders who have been directed to arrange general security for the candidates.
The parliamentary candidates are to contact the commanders to give them details of their (candidates') residences and movements.
Giving details of security arrangements for the election, the Interior Minister indicated that on election day, the National Election Security Task Force would co-ordinate the administrative and operational aspects of general security throughout the 230 constituencies and 22,000 polling stations nation-wide.
.
He further announced that he had asked the Inspector-General of Police (lGP) to ensure that no security agent without a name tag was allowed to man a polling station.
That, he explained, was to avoid infiltration. He said the Regional and District Election Security Task forces would complement the efforts of the National Security Task Force to ensure the safe escort of all voting materials to and from the polling stations.
They would also protect electoral officers, ballot boxes and voters, he explained.
Dr Addo-Kufuor stated that civic and voter educational programmes were being undertaken by the National Commission for Civic Education (NCCE), the Ministry of Information and National Orientation and other governance bodies such as the Institute of Economic Affairs (lEA) to ensure incident-free elections.
The Interior Minister had appeared before the House to answer an urgent question posed by the Member of Parliament (MP) for Ashaiman, Mr Alfred Kwame Agbesi.
Mr Agbesi wanted to know what plans the ministry had made on security for presidential and parliamentary candidates, as well as the general public, before, during and after the December 7 elections.
Asked whether the security agencies would be armed, the minister stated that it would depend on the situation at the various polling stations.
On whether members of the Community Protection Unit of the National Youth Employment Programme (NYEP) would take part in the provision of security at polling stations during the elections, Dr Addo-Kufuor asked Mr Agbesi to file another question for him to answer later.