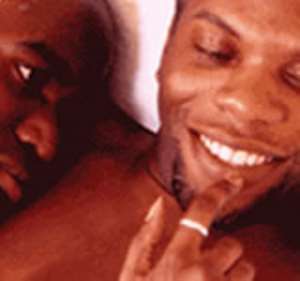 The outcome of the American elections has seen a general celebratory mood nationwide but not for one minority group in states like Florida, Arizona and especially in California.
For all the right and wrong reasons, the GLBT minority is slowly but surely becoming a major force to reckon with and one whose rights must be ensured at all times if you are to progress in any endeavor in this country.
GBLT is the Gay (men who love men sexually), Lesbians (their female version), Bisexuals (those who do both) and the Transsexuals (males or females who have switched their sexes) either due to biological reasons attributed to hormonal 'unfairness' or some other reasons.
In education, the work force, health care, the military and the general American life situations, the GLBT group cannot be done away with. My university recently inaugurated its GLBT center with pomp and pageantry. This is one group that cannot be simply wished away with prayer and supplication in America. You only have to respect them as human beings exercising their right of choice, period.
Like Florida and Arizona, California had on its ballot a number of propositions on constitutional amendments and this included the now famous Proposition 8 which gave citizens the opportunity to vote in favour of an amendment that will recognize only marriage contracted between a man and a woman.
This followed a Supreme Court ruling in May this year which overturned the state's year 2000 law and decided that marriage could be between two women and two men and it was valid in California. As soon as this ruling was passed in May California became the place to be for same-sex lovers who rushed to get married in the state, which also houses most of the famous people and places in this country.
Now thanks to effort and hard work of the Mormons, Californians voted for Proposition 8 which means that only marriage between a man and a woman will be valid and recognized.
The 52.3 per cent yes votes has not come without consequences for the church identified and known as having supported the passage of the proposition. The Mormon Church or the Church of Jesus Christ of Latter Day Saints has been faced with days of "shame unto you, shame unto you" from the about 2,000 protesters who have been picketing outside the Los Angeles temple of the Church of Jesus Christ of Latter-day Saints.
The supporters blamed the church for fighting against same-sex marriages with the same vigour which the presidential candidates fought for the peoples' votes. Why are people angry with the Mormons simply because they also exercised their democratic right to speak against something they do not believe?
A Washington newspaper interestingly pointed out that most Blacks voted against same-sex marriage by 70 to 30 so why is the group not even blaming Blacks and simply marching against the Mormons.
Mormons in California are said to number more than 750,000 and have been instrumental in fighting against same-sex marriages with church leaders encouraging their members to sacrifice their means and time to overturn the Supreme Court ruling and they won.
Their leaders ensured that they drummed the message very hard at any given time to protest what for them was a moral rape against the sanctity of marriage and they won.
Now they have to face the brunt of angry would-have-been couples some of who were smart enough to commit to each other by marrying before the elections but too bad, it still will not be recognized in California.
The issue of same-sex rights especially as it regards marriage remains highly contentious in this country but my question is that why should the Mormons be blamed for exercising the same democratic right that the GLBTs also exercised?
Everyone has a voice in a democracy. You are free to fall in love with whoever you choose, others are free to use any legal and appropriate means to express their opinions but in the end who wins – the thumb.
It is the silent participant in all of this and yet ends up as master of all. Can you dispute that?
My only wish though is that the Mormon temple in Los Angeles also has a trumpet like the one on top of the Ghana temple. Who knows maybe one of these days the protests will trigger it to blow and then we will see.
Credit: Dot Asare-Kumah [[email protected]/ www.asarekud.blogspot.com]