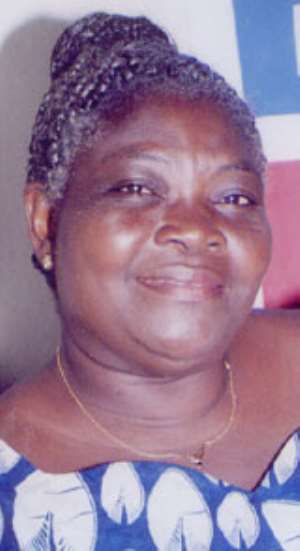 The First Vice Chairperson of the New Patriotic Party (NPP), Mrs. Agnes Okudzeto has stated that her party is the ideal one that can bring hope to the people because of its policies and plans that are geared towards rapid development of the country. She has, therefore, called on the people, particularly the Youth, to vote massively for Nana Akufo Addo and the NPP.
She said the level of development brought to the Volta region within the eight years of the NPP administration was unprecedented, as more would be added when the people vote to retain NPP in power.
Mrs. Okudzeto, who was addressing a rally attended by hundreds of people at Dedukope in the North Tongu District after a health walk noted that the future looked bright and urged the people, especially the youth, to take advantage of the prevailing peaceful environment and vote for the NPP to guarantee accelerated growth and development.
She said the NPP had laid a firm foundation that would propel the economy to a stage where the people would be more comfortable, noting that the NPP government led by President Kuffuor had made the necessary preparation that would make it possible to improve upon the lives of the people through job creation.
Mrs. Okudzeto stressed that the NPP was youth development oriented and would do everything possible to ensure that plans as well as policies directed towards youth growth and development were systematically carried out.
"The youth are strong pillars of our society and NPP will work hard to prepare them adequately to take up the challenges ahead", she said. Okudzeto noted that the party needed more time to accomplish their plans and policies and pleaded with the electorate to give them nineteen years, like they gave to the P(NDC).
The President of the Volta Foundation, Mr. Raymond Okudzeto said there were physical development projects executed by the NPP within their short period of eight years as compared to the over nineteen years of the NDC, adding that Aveyime–Battor Rice Project which was characterized with all forms of mismanagement and abuses by the NDC was now operational and could employ a number of the unemployed youth.
Mr. Okudzeto pointed out that he need not tell the people about the successes of the NPP but he would emphasize on the water project which has been duly completed for Mepe, Battor and the Dangbe-East Districts. He said the provision of water would prevent water-borne diseases.
The District Chief Executive for the area, Mr. Moses Mensah Asem commended the youth in the area for supporting the NPP and asked them to translate such support to votes for him as the MP, and Nana Akufo-Addo as the next President to ensure accelerated development of North Tongu, the Volta region and the country in general.