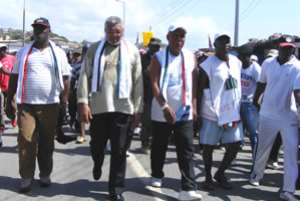 Former President Rawlings caused a stir in the Cape Coast municipality last Sunday when he joined hundreds of residents in a keep fit walk organized by the Atta Mills fan club in Cape Coast.
The walk, which started at 9am from Abom a suburb of Cape Coast, went through some principal streets and ended in a colourful durbar at the Victoria Park.
Rawlings and his entourage, including Honourable E.T Mensah, MP for Ningo Prampram and Honourable Nii Laryea Afote Agbo, MP for Kpone Katamanso walked gorgeously while responding to cheers from the crowd who had lined up by the streets with others perching on storey buildings and walls to catch a glimpse of the former president.
After the durbar the former President made a stopover at two fishing communities, Duakor and Bakano on his way to Cape Coast Polytechnic and asked members of the communities to vote NDC into power.
The Keep Fit event, which was started four years ago by the former president, recorded an unprecedented turnout thus making it hectic for security guards to control the crowd.
Mr. Valis Akyianu, Central Regional Chairman of the NDC and former Regional Minister, Lawyer Barton Oduro, parliamentary candidate for Cape Coast and other regional executives also took part in the walk.
Addressing the durbar after the keep fit walk, former President Rawlings advised the teeming crowd not to repeat the mistake that brought NPP into power, which has brought untold hardship on them.
He said any failure to bring the NDC to power would result in creating a mess for future generations.
He added that the most important thing Ghanaians should do now is to bring NDC back to continue its good works
He said the fight for freedom, justice and wellbeing of people is no more between NDC and NPP but Ghanaians against NPP and its corrupt officials.
He noted that when NDC was in power they provided electricity, good health care, good drinking water and education at affordable tariffs.
He charged the supporters to fight hard and also to be vigilant especially on the voting day and assured them that next month elections will actually be a victory for the party.