Rawlings - I Will Never Take Power From Atta Mills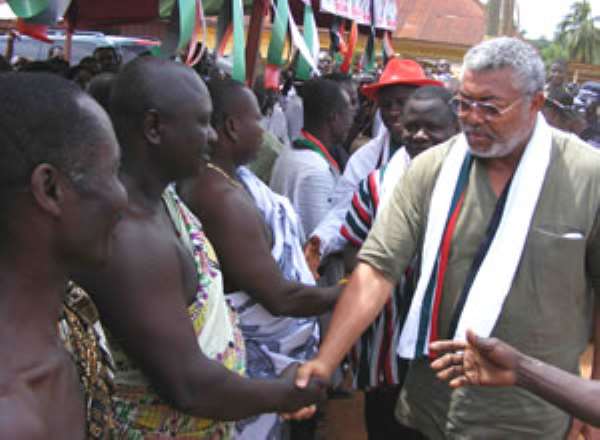 Former President Rawlings on Monday told a teeming crowd at Oda in the Eastern Region that he will never interfere in an Atta Mills government if Ghanaians vote him into power.
Rawlings explained that it was his political opponents who are doing all they can to injure his hard won reputation and assured Ghanaians that is mere hatred and diabolic machination by NPP to discredit him.
He said the 1992 Constitution, which was put together by Ghanaians to safeguard the nation, does not allow anybody to interfere in the affairs of the President of the day.
The former President said this when he addressed a rally at Oda to begin his five-day campaign tour of the Eastern Region.
He said the NPP came to power through lies and blackmail and that is why all the promises they made in the past eight years are still not delivered and therefore should be voted out.
He had earlier visited Akyem Akroso where he told a durbar of chiefs and people of the village that they should check the integrity of the candidate they will vote for since it is very important for the development of the country .
He said Prof. Mills is the only candidate who can deliver on his promises.
He said eight years of severe suffering and extreme poverty under the NPP administration is enough so Ghanaians should not make a mistake by voting for them.
He said Ghanaians cannot pay for their children's school fees and electricity bills, adding that it is only a few people in government who are feeling good at the expense of cocoa farmers and tax payers while they keep on telling the whole world that Ghanaians are living a better life.
Nana Kwabena Fori II, Chief of Akyem Akroso commended the former President for the development projects he delivered for the community when he was in power and noted that he did not discriminate in terms of development .
He said the NDC government built a senior secondary school and a market that are being utilised.