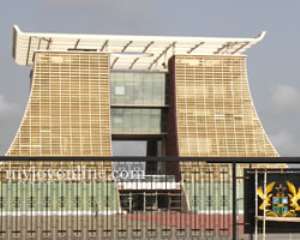 Listen to Asamoah Boateng and John Mahama on Super Morning Show
Although the yet to be completed presidential complex has been inaugurated, the cost involved has been 'hidden' from Ghanaians for the time being.
The project, initially pegged at $36.9 million was later estimated, by the Chief of Staff, to cost more than the amount quoted; Ghanaian taxpayers are at lost as they wait upon government to confirm how much of the their money was committed into the luxurious edifice, creating room for astonishing speculations.
The Minority spokesperson on Foreign Affairs, John Mahama, who doubles as the running mate of the opposition National Democratic Congress, claimed the government has spent a whooping $70 million on the Golden Jubilee House.
"You hear people say that nothing has suffered by spending almost $70 million on a presidential palace and that commitment to social services have not stopped," he wondered.
Speaking on a wide-range of issues on Joy FM's Super Morning Show (SMS), Mr. Mahama said government have to set its priority right.
"A government loses its way when it loses it sense of priority. I don't think if we had $70 million to spend, we will spend it immediately on building a presidential palace, we probably could even phased it over a period," he said.
Mr. Mahama also refuted claims by President Kufuor that the palace was constructed due to an "irresistible" offer made by the Indian government.
"The Indian government said this year we have $60 million available for you and Ghana government decided that they wanted to use 50% for rural electrification and 50% for a presidential palace. They sent a proposal of the presidential palace to the Indian government," he explained.
This is how he summed up his overall thought over the Golden Jubilee House: "One, I don't think that at this time in our national life it is an extreme priority to have built that complex; two, I don't think it should have been named Golden Jubilee, I don't think that was necessary; three, I think the government has not been forthcoming, open and transparent in terms of the costing and the expenditure that is taking place on that complex."
He said the name should have remained as Flagstaff House.
While speculations are rife over the cost of the project, Ghana's Information and National Orientation Minister has not even been abreast with the cost of the project. He struggled in vain to reject an estimated $30 million extra cost as put to him by the SMS host.
"Government responsibilities are going, everything is being tackled as we should…as I said yesterday and the Chief of Staff repeated it, I would not be able to give you the figures today.
Right now there are some few activities taking place there especially in the residence part and everyday you know things might happen in terms of cost; so let's relax, it is not something we wouldn't tell you…"
Meanwhile, the BBC's correspondent in Accra has projected the cost at $45-50m.
Story by Isaac Essel