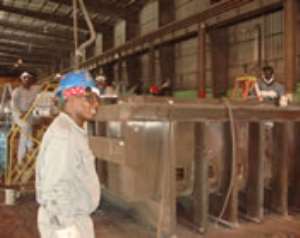 VALCO boss speaks to Joy News' Evans Mensah
The Chief Executive Officer of Volta Aluminium Company Dr. Charles Mensah has warned that "creating a controversy" around the deal ratified by Parliament could force the foreign buyers to opt out.
Dr Mensah who has been a promoter of International Aluminium Partners, the consortium mentioned in the deal document to be acquiring the 70% stake, maintained the agreement was legitimate and the best so far.
"It is a board room matter. We cannot sit here and discuss the intricacies of a contract to a point where a contract signed is just laid out there in public for people to see and names of people who signed to be exposed, we don't do that."
"If you have a partnership of about three companies [including VALCO] and one says …I want out, this is not an issue to fight about," he stated.
Dr Mensah maintained that contrary to reports of a non-existent deal, the agreement still stands, adding that only one of the partners in the consortium had earlier filed a lack of interest.
He disclosed that Norsk Hydro, the Norwegian partner, had earlier called to express their intension to opt out of the deal. "They called me and said, look, we would want to step aside," he insisted.
"What will kill the deal is if we Ghanaians create a controversy around the deal and then everybody would walk out because nobody wants controversial situations at this time in the history of the world economy," he said.
The Reuters news agency on Friday reported that both foreign companies mentioned in deal document denied they had any plans to buy any stake in VALCO.
"We have not signed any agreement regarding VALCO and we do not have any plans to invest in Ghana," …..spokesperson for Norway's Norsk Hydro said in Oslo.
A spokeswoman for Brazil's Vale also told Reuters in Sao Paolo that "there are no such plans for this."
The VALCO deal was on Friday cleared by acclamation despite earlier objections by some minority members of the house.
The trade minister who took the document to Parliament for approval has been silent on the matter.
VALCO with a capacity to produce 200,000 tonnes of aluminium a year has cut back on production since March 2007 due to power shortages caused by low water levels in the Volta hydropower dam.
Ghana's trade ministry said in a memorandum to parliament that Norsk Hydro and Companhia Vale do Rio Doce had agreed on August 8 to buy the VALCO stake and invest $4.7 billion in Ghana's aluminium industry.
Under the terms published by the ministry, Vale and Norsk Hydro would pay an initial $25 million to the Ghana government, with the remainder due only when VALCO resumed production with two pot lines running and power guaranteed from the Volta dam.
National Democratic Congress spokesperson and MP for Tamale South Haruna Iddrisu had described the deal as a "giveaway" because it would take some time for VALCO to run two pot lines. [Listen to attached audio]
Story by Fiifi Koomson