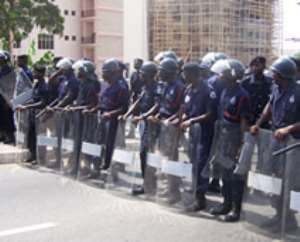 A total of 453 electoral flash points have been identified in the Western Region, Mr Benjamin Bano-Bioh, Deputy Regional Director of the Electoral Commission (EC) said on Monday.
He was speaking at the 'Study Day of the Regional Election Security Task Force at Takoradi'.
The Study Day formed part of Exercise Peace Angel, which is being undertaken by the National Election Security Task Force to create an enabling environment for the EC to conduct free and fair elections in December.
Mr Bano-Bioh said the flash points were identified due to chieftaincy and land disputes, "galamsey" activities, problems at the borders, drug peddlers' hideouts and unhealthy political rivalry.
He said 145 difficult and inaccessible areas, which require special means of transport such as tractors, boats and motorbikes to reach have also been identified.
Mr Bano-Bioh said the EC, has a huge responsibility to ensure free, fair, transparent and incontrovertible elections as its contribution towards good governance.
He said achieving free and fair elections is, however, a collective or shared responsibility of the EC, political parties, candidates, the electorate, media, security services and the courts.
He said: "No one of these bodies can alone ensure free and fair elections. On the other hand, anyone of them can easily mar the atmosphere for free and fair elections".
Mr Bano-Bioh said the security services were to check all forms of intimidation and kept the general peace in order to create the right atmosphere for democratic politics.
He said it was particularly necessary for the candidates to freely campaign and the voters feel safe to participate in the elections.
Mr Bano-Bioh said the electoral process must be devoid of violence, coercion and intimidation to make it free and fair.
He said the security services should keep order at polling stations and collation centres on the Election Day and there should not be any procedures, actions or conditions that would deter votes from casting their ballots freely and secretly.
Mr Bano-Bioh hoped all stakeholders would play the role expected of them in a fair and impartial manner to ensure free, fair and transparent elections.
Lieutenant-Colonel Francis Vid-Sanziri, Commanding Officer of the Second Battlion of Infantry (2BN) said a field exercise on the roles the security services were expected to play on Election Day would be undertaken in the Sekondi-Takoradi Metropolis on November 16 this year.
He said the Exercise Peace Angel is a joint security services programme aimed at affording the services the opportunity to rehearse and synchronize their operational plans and procedures to support the EC to conduct the elections.
Lt. Colonel Vid-Sanziri said the study day was being held in all regions and districts under the Southern Command.