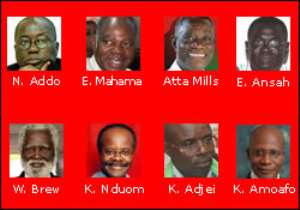 An official of the Electoral Commission (EC) has refuted allegations by leaders and supporters of some political parties that the body was planning to rig Election 2008.
Mr. Ebenezer Aggrey-Fynn, EC Commissioner in charge of the Upper West Region, urged Ghanaians to assist in building a good reputation for the EC and the country instead of doing things that could result in destroying the electoral process.
He was speaking on "rationale for training and inbuilt integrity of Ghana's electoral process", at a forum to sensitize media practitioners on electoral laws and procedures to help them to report accurately on the polls, in Wa on Sunday.
The event was organised by the EC and sponsored by the Netherlands Institute for Multiparty Democracy.
Mr. Aggrey-Fynn said: " The allegation that a director at the EC was conniving with a political party to rig this year's elections should not be taken seriously because counting of ballot papers are done at the polling stations and results are also declared at the polling stations."
He said some media practitioners assumed that what they disseminated could not be challenged while the public out of ignorance accepted whatever they said as the truth.
Mr. Aggrey-Fynn said that the power of the media could not be underestimated and any wrong reportage by journalists could result in serious trouble for the country.
He cautioned that "Let us study the laws on the electoral process, understand the electoral system and report only the truth. We must be fair to all and above all our reports must be of goodwill and beneficial to the people".
Mr. Amadu Sulley, a director at the EC, who spoke on: "Procedures on polling day and roles of critical stakeholders", urged the media to provide accurate reportage to enable the electorate to make informed choices on 7 December.
He appealed to political parties contesting the polls to recruit knowledgeable persons as agents to ensure that the right procedures were observed at polling stations to ensure peaceful elections.
Mr. Sulley announced that the EC had set aside 2nd December for persons who would be carrying out electoral duties outside their constituencies on 7th December, to cast their votes.
He said that ballot boxes for the special voting would be kept at the police armoury.
Mr. Sulley appealed to affected persons to apply to the EC not later than 14 days to the elections, warning that voting "by certificates had been abolished."
Mr. Yahaya Mahama, Upper West Regional Director of the EC, called on all stakeholders in the electoral process to play their roles effectively since the EC alone could not ensure free, fair and peaceful elections.