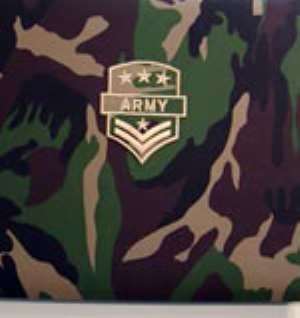 A military officer dispelled the notion that the presence of military personnel at polling stations on Election Day would intimidate the public from exercising their franchise.
Major Berima Brako Owusu, Deputy Commander of the First Infantry Battalion at Michel Camp said: "This is a wrong perception about us. The military is not there to intimidate but rather support the police."
The military together with other national security personnel would partner the Ghana Police Service to ensure security during the December 7, 2008 presidential and parliamentary elections.
Major Owusu said this at a day's seminar for senior officials of the Police Service, Ghana National Fire Service, Ghana Immigration Service, Navy, Custom and Excise Preventive Service (CEPS), Military and the Electoral Commission at Tema.
He noted that partnering the police and other security services to maintain peace during the election was in the right direction since the country does not have enough police personnel for such an important national exercise.
Major Owusu, therefore, asked the public not to panic at the sight of other national security personnel especially the military at the polling stations because they had always augmented the work of the police in previous national duties.
He gave the assurance that the security officials would create the enabling environment needed for electorates to vote on Election Day.
Major Owusu indicated that to avoid creating doubts in the minds of the public, all the security services were harmonizing to streamline their activities for the elections.
Deputy Commissioner of Police (DCOP), John Kudalor, Tema Regional Police Commander said the seminar was a nationwide activity aimed at deliberating on electoral issues.
DCOP Kudalor said apart from identifying flash points in the region, the seminar would also enable them to put in measures that would ensure that security personnel would comply with the electoral rules.
He added that the strength of the Regional Electoral Task Force would also be tested to determine their preparedness for the election in addition to training personnel to discharge their duties professionally on the Election Day.
The Commander advised security personnel not to interfere in the electoral process reminding them that they would not be stationed at the polling station as electoral officers but rather as security officials, who must ensure orderliness at their posts.