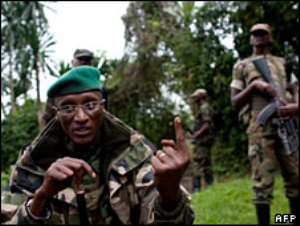 Congolese rebel leader Laurent Nkunda has reiterated a threat to overthrow the Democratic Republic of Congo government unless it holds talks.
The renegade general also told the BBC that his forces were still observing a ceasefire and had only retaliated when attacked last week.
Forces loyal to Gen Nkunda have been battling the army and pro-government militia in eastern DR Congo.
A Congolese official said Gen Nkunda was a criminal who should be arrested.
At least 250,000 people have fled their homes because of the fighting.
President Joseph Kabila has so far ruled out direct talks with Gen Nkunda, saying they would be unconstitutional.
But Gen Nkunda said the way to resolve the current crisis was through negotiation.
"If he refuses to talk now he will not be able to rule Congo and to lead it," he said, referring to President Kabila.
"We have to liberate Congo. Congo has to be free and to develop."
Correspondents say Gen Nkunda could use his forces of about 6,000 to take Goma.
But they say that any advance on the capital, Kinshasa, which lies some 1,580km (980 miles) to the west, would be much more complicated.
'Criminal'
Gen Nkunda says he is fighting to protect his Tutsi community from attacks by Rwandan Hutu rebels, who fled to DR Congo after Rwanda's 1994 genocide.
He spoke to the BBC at his mountain headquarters, three hours' drive outside Goma.
BBC World Affairs correspondent Mark Doyle says the threat may just be aimed at strengthening Gen Nkunda's political position.
But he says it raises the stakes at an extremely tense time, when other African countries are also threatening to intervene on the side of the elected Congolese government.
The Congolese ambassador to the United Nations, Atoki Ileka, dismissed Gen Nkunda's threat to take over the country, and called the rebel leader a criminal.
"You don't negotiate with criminals, you catch a criminal and put him in jail so he can respond to justice," he said.
"Whatever he's going to do from now on, he's not going to go unpunished."
In the most recent clashes, Gen Nkunda's forces have taken a series of towns and villages near Goma, the capital of DR Congo's North Kivu province.
The UN has accused both sides of war crimes, following the reported killing of several civilians in the eastern town of Kiwanja last week.
Gen Nkunda claimed his forces had simply been responding to attacks.
"Since we declared the ceasefire, we were attacked around six times or seven times," he said.
"We are reacting only, but the ceasefire is there."
On Sunday, Southern African leaders pledged to provide military advice to the Congolese army and said they would send a peacekeeping force if and when necessary.
The Southern African Development Community (SADC) denied reports that Angolan soldiers were already in DR Congo, but said they could be there shortly.
Angola, Namibia and Zimbabwe supported DR Congo with troops during the 1998-2003 civil war.
Rwanda, which is led by Tutsi President Paul Kagame, has denied claims that it has been backing Gen Nkunda.
The UN has 17,000 peacekeepers in DR Congo, its largest mission in the world, but only a few hundred peacekeepers are in the areas affected by the latest violence.