Don't blame Parliament for approving VALCO deal - Majority Leader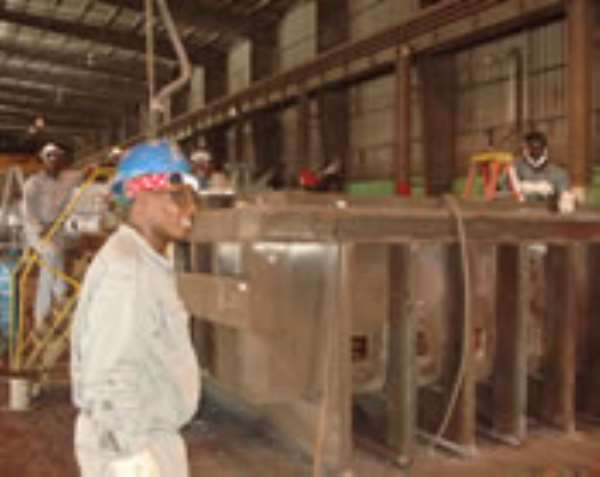 Majority Leader in Parliament Benjamin Osei Aidoo speaks to Joy News
The Majority Leader in Parliament Benjamin Osei Aidoo says the house is not to blame for ratifying the deal that offloaded 70% government share in Volta Aluminium Company Limited (VALCO).
"For us, we were mandated to approve of an agreement [between] two parties, one of them being the Ghana government.
"If it turns out that the other party or the person or agent ... did not have the mandate, that's a matter between the Ghana government and that other party.
"We have done what we were supposed to do under the constitution," he maintained.
The Majority Leader was responding to questions on parliament's position on the reported denial of two foreign companies mentioned to have bought the 70% share in the agreement.
Parliament approved the $175-million-dollar sale for 70% of the VALCO last Friday but the Reuters news agencies reported that both foreign companies mentioned in the agreement said they had no plans to buy the stake.
According to a Joy Fm news desk report, Ghana's foreign ministry had indicated in a memorandum to Parliament that Norsk Hydro (NHY.OL) and Companhia Vale do Rio Doce (Vale/CVRD) (VALE5.SA) had agreed on August 8.
The document also stipulated that the two companies which made up the International Aluminium Partners, the consortium which signed the deal with government, would invest some $4.7 billion in Ghana's aluminium industry.
The less-than-two-scores chamber approved the deal by acclamation with little debate, despite a stiff opposition by some members of the opposition.
Although the agreement describes the document as legally binding between the government of Ghana and the consortium, it is now unclear if it still stands.
The chairman of VALCO Dr Charles Mensah witnessed the agreement for the group whiles forestry minister Esther Obeng Dapaah witnessed for trade minister Papa Owusu Ankomah who signed on behalf of the government of Ghana.
Since reports of the non-existing deal broke on the international media, government officials have declined to comment.
The trade minister who took the document to Parliament for approval directed Joy News to the chairman of VALCO, who has also declined comment.
VALCO with a capacity to produce 200,000 tonnes of aluminium a year has been inactive since March 2007 due to power shortages caused by low water levels in the Volta hydropower dam.
Under the terms published by the Ministry, Vale and Norsk Hydro would pay an initial $25 million to the Ghana government, with the remainder due only when VALCO resumed production with two pot lines running and power guaranteed from the Volta dam.
The minority leader in Parliament, Harun Idrissu had described the deal as a "giveaway" because it would take some time for VALCO to run two pot lines. [Listen to attached audio]
Story by Fiifi Koomson
[Joy Newsroom contributed reporting]