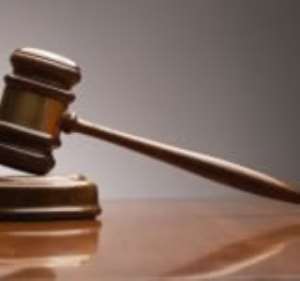 A palm-wine tapper, Prosper Ashiabe, has been sentenced to a two-year prison term by the Kade District Magistrate's Court for stealing, a cocoa sack and 105 kilogramme of cocoa valued at GH¢171.36.
Ashigbe pleaded guilty to three counts of unlawful entry, stealing cocoa sack valued at five Ghana cedis, the property of George Ayisi and also stealing 105 kilos of cocoa beans, property of Joshua Nkrumah.
Presenting the facts of the case to the court, presided over by Mr Kwaku Baah Frimpong, Police Inspector Francis Cobbina said the accused lived at Akyem Pramkese while his victims were farmers living at Twumwusu.
On September 11, this year, Joshua Nkrumah harvested his cocoa and after fermentation decided to dry the beans on his farm and build a shelter where he lived to keep watch over the cocoa.
The prosecution said, on noticing that the cocoa beans had started drying, Ashigbe started monitoring the movements of Nkrumah and on September 26, this year at about 1600 hours when Nkrumah left the farm, the accused went into the room of one Mr Ayisi to steal the cocoa sack before going to the farm to load the cocoa beans.
Inspector Cobbina said Ashigbe carried the load to the roadside to board a vehicle but a driver with his passengers became suspicious and refused to pick him and instead reported him to the people of Twumwusu.
He said the people arrested him and took him together with the load to the Pramkese Police station.
Upon interrogation, Ahigbe admitted stealing the cocoa and was therefore processed for court.