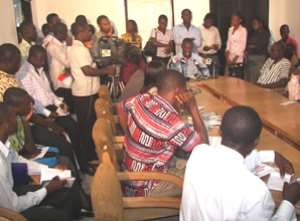 The National Democratic Congress' Forum for setting the records straight says CHARACTER is a critical determinant in choosing Ghana's next leader, however the New Patriotic Party's Nana Akufo-Addo who prides himself as being the best in the race, does not measure up.
The party said while its candidate, Professor John Evans Atta Mills stands tall on this score, Nana Akufo-Addo cannot be the rightful choice Ghanaians should bank on for the next leader of the nation.
"Ladies and Gentlemen, even at the level of our traditional leadership, we place high premium on the choice of individuals whose character traits reflect values of truth, nobility, sincerity and integrity," read Fifi Kwetey, Propaganda Secretary of the party at a press conference on Monday.
Fifi Kwetey said as the country prepares to elect a new leader in the December polls, there is the need for a thorough evaluation of the character of the two main aspirants, citing a comment by Joy FM's Programmes Director, Kofi Owusu, who had stated on the radio station's Super Morning Show programme that a most important issue to the American electorate is the honesty and truthfulness of the candidates.
Kofi Owusu was in the USA to cover the US election that historically elected Democrat Barack Obama, the first black man ever to be elected to that position.
"Without character, great ideas come to naught. They come to naught because it takes strength of character to bring ideas into concrete manifestation. It takes character and values to honour one's promises. It takes character and integrity to stand by one's stated plans and programs. It takes character and nobility to have the courage to continually tell the truth to the people. Above all, without character a president's pledge to uphold the constitution and defend the interest of our people will be of absolutely no value," argued Mr. Kwetey.
"We have nothing to worry about when it comes to the character of Prof Mills because he stands tall and unblemished and has an impeccable track record of credibility and believability."
The NDC said on the contrary, Nana Addo falls short of his own campaign claims of believing in Ghana, of being a peaceful and non-violent person and of being a human rights defender.
"…is it not ironic that someone who tries so hard to speak like a white Englishman is sermonising us about belief in Ghana? Even Kofi Annan, who spent many decades living and working abroad still speaks as a Ghanaian. Kwame Nkrumah also spent many years abroad but has always spoken as a Ghanaian. Their example is the hallmark of people who are proud of their heritage."