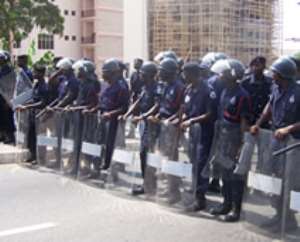 The Upper West Regional Police Commander, Deputy Commissioner of Police (DCOP) Kwasi Appiah Boateng has called on the police and personnel of other security agencies to ensure that peace prevails before, during and after elections 2008.
He said peace could be secured for the country if together they put their house in order by finding out how prepared they were, identify operational weaknesses, test equipment, examine transport situation and understand the task ahead.
He said the success of the elections called for the playing of effective leadership roles, taking into consideration the rights of the citizens, as well as careful exercising of power in a more humane manner, so that fear is not put in the public.
Mr Boateng was addressing a joint police and military practical exercise forum in Wa, to prepare them to react to various scenarios that had been built around identified flash points in the region where incidents were anticipated.
The exercise is to harmonise and coordinate activities of the security services, and prepare them in readiness to offer the necessary protection and the maintenance of law and order to enable people cast their votes peacefully on December 7, 2008.
Mr Boateng asked the security personnel not to forget about the traditional roles of ensuring that citizens were protected.
He assured the public that the exercise that they had embarked on, was for the safety of the people and that the electorate should feel free to turn out to cast their votes on the Election Day.
Mr Boateng appealed to political leaders to reciprocate whatever peace efforts the security agencies were making to ensure incident free elections by toning down their language on platforms, and also to educate their supporters to refrain from any act that would bring the nation down.