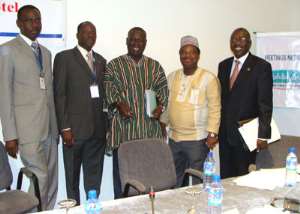 Ghana's Aviation Minister, Mr Joe Baiden-Ansah (middle), poses with some delegates at the closing session
Ghana's Minister for Aviation, Mr Joe Baidoe-Ansah, has urged Council of Ministers in-charge of Civil Aviation in the West and Central Africa, to ensure the implementation of the Accra Meeting resolutions in order to make the industry vibrant in the two sub-regions.
According to the Minister, most of the air services in the sub-regions, are characterised by poor quality of service, poor connectivity, unreliable schedules, prohibitive costs and tariffs, therefore and there is the need to take the outcome of the meeting serious for the betterment of the people in the continent.
Mr Baidoe-Ansah was speaking at the closing of the fourth Meeting of the Council of Ministers for the implementation of the Yamoussoukro Decision on Air Transport Liberalisation in West and Central Africa in Accra.
He explained that the main objectives of the Yamoussoukro Decision, which was adopted by African Ministers responsible for Civil Aviation in 1999, was to open up the continent for air links in the two sub-regions and also for development.
He said Ghana attached importance to Aviation industry and is committed in attaining the objectives set out for the member states, saying it is time proper attention is focused on the industry by all members in order to achieve their goals.
The delegates unanimously adopted a seven proposed resolutions. These are adopting common economic regulations for West and Central Africa, libralisation of air transport in West and Central Africa, aviation safety and security in the region and creation of autonomous civil aviation entities in member states of West and Central Africa among others.
The meeting, which was hosted by the Ministry of Aviation, brought together 70 delegates from 23 countries and other industry affiliated bodies such as ECOWAS and West Africa Monetary Union.