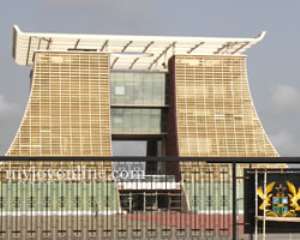 Listen to Asamoah-Boateng and Afriyie Ankrah on Super Morning SHow
President John Agyekum Kufuor is expected to move into the newly constructed Presidential Palace before his tenure in office ends.
Mr. Stephen Asamoah-Boateng, Minister of Information and National Orientation, who disclosed this on Joy FM's Super Morning Show today, could not however, tell the exact date the President would relocate from the Osu Christianborg Castle.
"Some of the staff would be moving in from today (Monday, November 10, 2008)…he (President) definitely would move in…certainly yes. I know for a fact," he stressed.
The news that the President would in anytime soon run government's business from the palace is in sharp contrast with an earlier assumption that he would not personally occupy the new seat of government - but the incoming president after the December polls.
Even though the government is yet to occupy the palace, Asamoah-Boateng said it would be used to transact government business immediately it is commissioned today.
Rancour from opposition parties met the government's decision to construct the new seat of government; they argued that against the backdrop of 'hardship' in the country, the comfort of the president should not be the priority. The palace was built despite the stiff opposition.
Meanwhile the opposition National Democratic Congress is on the shoulders of the government demanding the cost of the project.
The Information Minister conceded he was not informed about the cost, but after enumerating a numbers of uses the palace would be put to, he rather entreated; "the value is what I think should occupy our minds today", not the price.
Reminded that there were still some finishing touches to be done on the project, Asamoah-Boateng denied government was rushing to commission the palace just so President Kufuor would have a feel of it.
Utterly elated by the outcome of the project, he noted, the current seat of government is not suitable for the president.
The Deputy General Secretary of the NDC, Elvis Afriyie Ankrah, said even though the party has criticised the wanton construction of the palace, its presidential candidate would use it when elected president.
"We will not make that mistake where they boycotted the use of the presidential jet…the fact that we are raising issues doesn't mean that once state money has been used to construct that edifice it would not be used," he explained.
He said the premature commissioning of the Presidential Palace raises some legal and contractual issues.
Meanwhile the Police Service has announced the redirection of traffic on all roads leading to the Flagstaff House to pave way for the official commissioning exercise.
Story by Isaac Essel