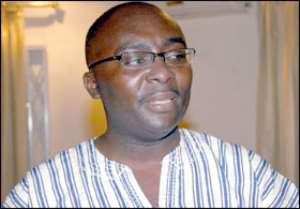 THE VICE presidential candidate of the New Patriotic Party (NPP), Dr. Mahamudu Bawumia shocked his audience during a recent visit to Walewale when he broke down in tears over the pervasive poverty situation in the three northern regions.  
In some of the communities he visited, Dr. Bawumia told the people the NPP government was doing all in its power to eradicate poverty in the regions through various interventions.
He said it was for this reason that the party's flagbearer, Nana Akufo-Addo announced a $1billion Northern Development Fund aimed at bridging the gap between the north and the south.
The NPP government, he indicated, had done a lot to reduce poverty in the north through the provision of micro-credit facilities to individuals and skill training to women groups.
Much of the work, according to him, was yet to be done as the two terms of the NPP could not completely eradicate poverty in the north, and impressed upon the people to retain the NPP for Akufo-Addo to build on the solid foundation laid by President Kufuor.
Several economically viable ventures, he observed, existed in the three northern regions but poverty had made it impossible for the people to access them, and therefore gave the assurance that an Akufo-Addo-led government would endeavour to bring smiles on the faces of those who have lost hope as a result of poverty.  
He added that the rural-urban drift would be a thing of the past since the next NPP government would be committed to "operation end northern poverty and underdevelopment".
He stated that the key to unlocking the wealth of the country was in the possession of the current government, and appealed to the electorate to repose their confidence in the party by voting massively for it on December 7.  
From Stephen Zoure, Kparigu