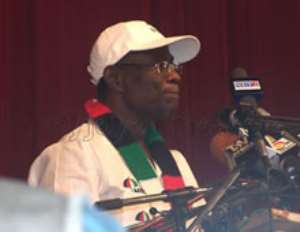 Prof John Atta Mills, presidential candidate of the National Democratic Party (NDC), has said a government under him would ensure adequate security to enable the citizenry to live without fear.
He said this when he addressed rallies in North-Tognu, Akatsi and Keta districts part of his campaign tour of parts of the Volta Region.
Prof Mills said contract killings, kidnapping and armed robberies that are fast becoming common crimes in Ghana needed to be halted in order to avert a national disaster.
"Today people are living in fear with the constant highway robberies. Can our country, grow in this situation?" he asked, and added that the government has lost control of the security situation to the extent that the country has become a safe haven for drug trafficking.
Prof Mills said his government would therefore resource the security services adequately and motivate them to perform to expectation.
He said a district youth training and placement programme would be instituted to enable the youth acquire skills after which they would be given tools and capital to establish their businesses.
Tertiary school graduates would also be given specific training to seek job placement and basic school students who failed their examinations would have the opportunity to re-write those examinations.
Commodore Steve Obimpeh (RTD), a former minister in the NDC government, said it was that government which launched the cocoa rehabilitation programme in 1983 when bushfires devastated cocoa farms in the country.
He said it was NDC government that began the National Health Insurance Scheme on a pilot basis in 1998, "therefore the NPP cannot claim that they initiated it", he said.
source: GNA