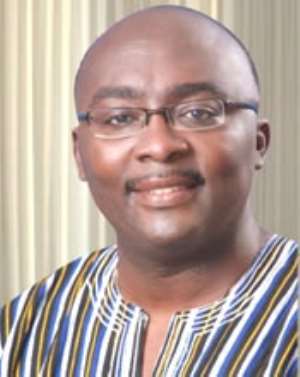 The choice of Dr. Mahamudu Bawumia as Vice Presidential Candidate of the NPP is continuing to destabilize certain political terrains in the country as more souls are being won into the fold of the NPP in the Northern sector.
One such incident is the defection of the former People's National Convention (PNC) Member of Parliament (MP) for the Walewale constituency.
Alhaji Issifu Azumah was the MP for the area between 2000 and 2004 but has now defected to the NPP.
In an interview with newsmen, after a mammoth rally in Walewale, Alhaji Issifu said he was attracted to the NPP because of the party's achievements since it took power.
He recounted strides made in the health sector, education, infrastructure and transportation citing the NHIS, School Feeding programme, healthcare delivery and the boost for the educational sector as major benchmarks in ending poverty in the area.
Alhaji Azumah added he has no regrets joining the NPP especially in view of Dr. Bawumia's selection as vice presidential candidate. He described Dr. Bawumia as his brother and friend.
Meanwhile the entire Walewale township, hometown of the New Patriotic Party (NPP) vice presidential candidate Dr. Mahamudu Bawumia went into a frenzy when he addressed his first rally in the area. Many have compared the Walewale rally to that of Kasoa.
Thousands poured out on the streets to usher in their son and brother who they say had brought honour to Mamprugu bringing activities to a standstill in the entire district.
Residents paraded the streets, caught up in the "Kangaroo" fever in the about 10 kilometer stretch convoy from Gbimsi to the main town causing both vehicular and human traffic for the first time in the history of the area.
Some residents told newsmen this has been the biggest public rally ever in the history of the town and believed the Walewale constituency is a sure winner for the NPP.
The turn-out in Walewale and other parts of the northern sector has halted the numerous speculations and allegations that Dr. Bawumia is not popular.
Detractors who were peddling in such falsehood were forced to swallow their own words when he proved to the teeming crowd that he was really their son by exhibiting his fluency over the Mampruli dialect during his address.
Dr. Bawumia decried the poverty levels in the area. He promised Nursing and Teacher Training Colleges for Mamprugu. He announced among other things the government's commitment to improve farming activities in the area by adequately empowering farmers to produce in large quantities and promised to add value to sheanuts through the establishment of a sheanut board to oversee the operations of shea nut farmers.
He urged them to become part of the success story of the NPP which was poised to be retained during the polls warning against violence in the build up to the elections.
He introduced the party's candidate for Walewale and Yagaba-Kubori to the crowd and appealed to them to vote for them.