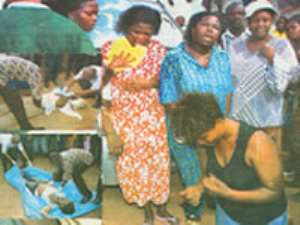 So, what is our measure of a peaceful people? Our 'natured' longsuffering or tolerance levels or the absence of strife? Seriously, are we better in these attributes than any other group of people? We may be hospitable, but does it make us more peaceful? I do not think so.
Take a look through the following classes of crime and judge which ones Ghanaians, as a people, have never committed before or witnessed in the land? Heist, murder (including ritual murder), slavery, rape and sexual battery, child molestation, assault and battery, prostitution, drug offenses, white-collar crimes/internet fraud as well as electoral fraud – are these not perpetrated by Ghanaians on a daily score?
Sitting in my privileged position at Myjoyonline.com where I see readers' comments regularly rejected for publication owing to their violent content, I have heard myself question widely-held refrains that Ghanaians are a peaceful lot.
But who aren't a peaceful people? Zimbabweans? Kenyans? Ivorians? Togolese? South Africans? Ugandans or Somalians? Because they experienced large scale strife? Indeed what group of people in this world aren't peaceful? Haven't Ghanaians regularly skinned petty criminals alive once we lay hands on them? Wait until your ox is gored and marvel at your real self. You definitely would not need to be a warlord to set your community on the road to perdition.
Let me share with you thoughts and outbursts of some of our own kith and kin; my prove that we are no better than any people anywhere and why we cannot continue to seek enduring peace so casually as we do now. These are just a few of readers' comments we have refused to approve for publishing on the website. Who are the peaceful Ghanaians? Click here to view a sample of the rejected comments.
Note that I have had to take some really 'bad' comments out.
I have heard many of our leaders 'urge', 'plead', and 'call for' peace as we go for Elections 2008. Ghana may indeed not be sitting on any time-bomb but surely there are kegs in the land that won't clear with rhetoric.
It is reassuring for the Electoral Commission to pledge a 'clean' poll from their offices, but a recent call to minors, 'strangers' and others who engaged in double registration to own up and help clean up the Voters' Register yielded naught. Whoever encouraged these acts intend to exploit same to defy the desires of the people. And they are 'peaceful' Ghanaians.
It certainly were no Afghans who perpetuated the violent clashes between the New Patriotic Party and National Democratic Congress followers in so many places across the country; Gushiegu, Sankore, Agbogbloshie, Nkoranza and others that in some cases led to loss of lives and property.
But thanks to Phenomenon Barack Obama, and the good people of America, who last Wednesday proved once again that good wisdom has never been restricted to medieval beliefs or precepts, we have reinforced faith that today's man is as important, if not more, for the direction the world must take.
YES WE CAN, IF WE WANT PEACE.
That monumental resolve to elect a man who would have been tagged and tramped as a NEGRO resonates with many of life's countless little, often ignored counsels - that quality rather than form need be appreciated and harnessed, and that good name should be chosen over silver or gold. Indeed people get what they desire and work diligently for.
On Saturday the local council of churches at Teshie near Accra, orgainsed a peace walk through the town to drum home the need and desire for a peaceful election. The National Commission for Civic Education, NCCE, also organized a peace walk from Abokobi to Madina in the past week while hundreds of Christian and Moslem women in the Ho Municipality took to the streets on a peace procession through the principal streets. The Dansoman Keep Fit Club, the Security Services, the National Peace Council and a host of other organizations have undertaken similar exercises. These are commendable acts that must be sustained and participated by all.
Political leadership, the security services particularly the police, the Electoral Commission and political parties all have important roles to play in our search for a peaceful election. The more important input however, rests with every individual just as the American example amply showed. It was the voter on the street who decided that the continent needed a new break from the ancient handicaps.
Election 2008 is about a search for leaders who can best serve the needs of the people, not those who seek opportunities to lord it over the people. It cannot therefore be a do and die affair for anyone! Why would anyone or group seeking the betterment of Ghana insist they must be the appointed ones to lead the path to a better future?
While the world revels with Americans over the uncommon feat that resonates in the now singsong of YES WE CAN, there is yet another important lesson to chew on from the process, commonplace though it may seem. There certainly is more to winning in a race. There is also grace for the vanquished!
Never in the hard fought race to the White House did Republican candidate, John McCain look so elegant and dignified than in defeat.
His will was not the people's and he accepted that graciously, finding the convenient space to congratulate the winner.
Can we replicate same in Ghana? YES WE CAN, and it should not come as the magnanimity of anyone; it should be the obvious recourse and a sign of genuine respect for the people's aspirations.
How much more stake does Nana Addo Dankwa Akufo-Addo, Dr. Edward Mahama, Prof. John Evans Atta Mills, Mr. Emmanuel Ansah-Antwi, Mr. Thomas Nuako Ward-Brew, Dr. Paa Kwesi Nduom, Mr. Kwabena Adjei, or Mr. Kwesi Amoafo-Yeboah hold in the welfare of the country than anyone else? Zilch!
We are indeed no better than the people of any sunken nation; but we certainly can continue to prove we are different by choosing the path of peace – doing what is right and accepting the choices of our neighbours. A call to arms or violence leads only to destruction and whoever calls it must be ignored.
In December we have our thumbs to make the right choices, not guns!
Isaac Yeboah
Editor, Myjoyonline.com