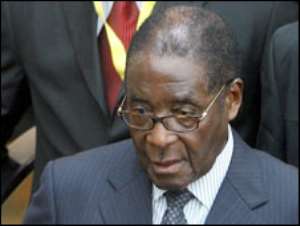 A summit of southern African leaders has told Zimbabwe's rival parties they must reach a compromise to break the country's political deadlock.
President Robert Mugabe's Zanu-PF and the opposition Movement for Democratic Change (MDC) must share the disputed home affairs ministry, it said.
The call came at the end of a day of talks in Johannesburg by the 15-nation Southern African Development Community.
The summit also said it could send peacekeeping forces into the DR Congo.
Mr Mugabe and his MDC rival, Morgan Tsvangirai, signed a power-sharing deal eight weeks ago but have failed to reach an agreement on the formation of a cabinet.
Meanwhile the country is suffering from food shortages and rampant inflation.
Mr Tsvangirai has warned that a million Zimbabweans could starve to death in a year if the political deadlock continues.
The BBC's Jonah Fisher, at the summit, says its call effectively backs Mr Mugabe.
Our correspondent says Mr Mugabe has accepted the deal but that Mr Tsvangirai was very disappointed and unhappy at the statement.
The summit was chaired by South African President Kgalema Motlanthe, who also backed called for an immediate ceasefire in the DR Congo, where rebel fighting has displaced tens of thousands of people.
"We firmly believe that there is no military solution to the problem," said Mr Motlanthe.