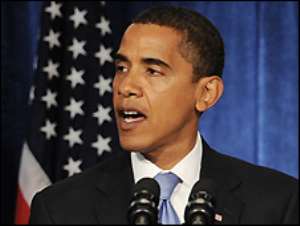 Mr Obama's team is scrutinising Mr Bush's executive orders
US President-elect Barack Obama will seek to reverse Bush administration policies when he enters office on 20 January, his transition chief said.
John Podesta said executive orders by President George W Bush on issues such as stem cell research and oil drilling were at odds with Mr Obama's views.
He said they could be easily repealed as no Congressional action was needed.
On Monday Mr Obama and Mr Bush will hold their first meeting since the Democrat's election victory.
Mr Obama, his wife, Michelle, and their two daughters - Malia, 10, and Sasha, seven - will be given a tour of their new home at the White House.
Afterwards the president-elect and Mr Bush are expected to hold what Mr Obama has described as "substantive talks".
'Deliberate haste'
"I'm not going to anticipate problems. I'm going to go in there with a spirit of bipartisanship," Mr Obama said on Friday, at his first news conference as president-elect.
The meeting has been arranged with unusual haste - analysts say this is in part because the US is at war, and also the transition is taking place in the midst of an economic crisis.
Mr Obama has said that dealing with the economy is his top priority, and that he will move with "deliberate haste" to choose his cabinet.
Speaking on Fox News, Mr Podesta said Mr Obama's team was working hard to "build up that core economic team".
Mr Podesta said the incoming administration was also scrutinising many of the executive orders signed by President Bush "on stem cell research, on a number of areas".
"You see the Bush administration even today moving aggressively to do things I think are not in the interest of the country."
He said the executive orders could be repealed or amended quickly by the new administration because no Congressional action was required.
"I think we'll see the president do that," Mr Podesta said.
One matter he highlighted was the Bush administration's attempts to authorise oil and gas drilling in Utah.
"[Obama is] a transformational figure, and I think he's going to transform the way government acts as we move forward," Mr Podesta said.
The co-chair of Mr Obama's transition team, Valerie Jarrett, said there could be a diverse, bipartisan cabinet.
"I'm confident his administration will include people from all perspectives," she said.
Mr Bush's chief of staff, Josh Bolten, pledged a smooth transition.
"If a crisis hits on January 21, they're the ones who are going to have to deal with it. We need to make sure that they're as well prepared as possible," Mr Bolten said.