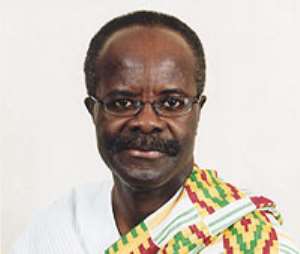 The flag-bearer of the Convention People's Party (CPP), Dr Paa Kwesi Ndoum, received a rousing welcome when he visited Kade on Friday to give his message of "change".
Dr Ndoum was mobbed by a large crowd at a rally which marked the launching of the Kade Constituency Campaign, where the party's parliamentary candidate, Nana Kwasi Ringold, was introduced.
He told the party faithful that the CPP was back to life and would re-capture power in December.
Dr Ndoum urged party supporters to actively mobilize and organize themselves to ensure sound and overwhelming victory for the party.
He said the major priority of a CPP government was the creation of jobs to make life bearable for the teeming jobless youth who had lost hope in life.
The flag-bearer, who sang the song popular in Kwame Nkrumah's days, "Work And Happiness," said immediate steps would be taken to mitigate the hardships Ghanaians were facing.
He said during the First Republic, there was a state owned Match Factory at Kade but was later moved to Accra thus denying jobs and livelihood for a good number of youth in the area.
Dr Nduom said his administration would embark on an industrial drive and improve on agriculture.
He said education would also be improved where more schools would be built under a programme which would give a community a school complex, from Kindergarten to Senior High School with Teacher's quarters.
Dr Nduom said the schools would also be fully equipped with science and computer laboratories.
He said the youth who could not go beyond the Junior High School would be given skill training to make them marketable.
Mr Ringold, the parliamentary candidate, spoke of the deprivation of towns and villages in the constituency and said the people deserved better amenities to improve their standard of living.
Mr Felix Amoah, Chairman of Dr Nduom's Campaign Team, said the CPP would ensure that there is a "change in the pockets of the people" and would make them better and happier than they are today.