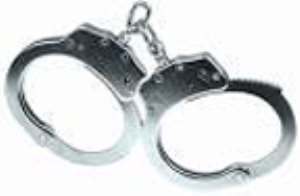 When the Odumase-Krobo Police thought they had grabbed an 11-year-old thief and handcuffed his legs because his hands were too small for the handcuffs, little did they know that the boy would escape.
According to the prosecutor the boy, known in his community as "small boy criminal", was arrested for stealing various items worth GH¢170.00, belonging to Madam Beatrice Teye, the complainant.
His accomplices, his uncle, Ebenezer Opata, 31, and his stepfather, John Padi, 45, have been charged for aiding and abetting the crime. Opata, a farmer and Padi, whose younger wife is the boy's mother, have been remanded in prison custody by the Odumase Krobo Circuit court presided over by Mr Asmah Akwasi Asiedu.
The 11-year-old has also been referred to the Department of Social Welfare to conduct further investigation into his conduct. and background and report to the court later.
Inspector Douglas Badji of the Odumase Police who presented the facts to the court said the complainant, a trader, attended the funeral of her deceased daughter on October 24, this year, at Mampong, a suburb of Odumase-Krobo.
He said around 7.30p.m., after the funeral, the complainant decided to return home. On reaching Agomanya, she put her dressing bag, valued at GH¢5.00, containing her mobile phone valued at GH¢60.00, a pair of black ear-rings valued at GH¢5.50p, a black scarf which cost OH¢1.50 and a necklace valued at GH¢2.50p, a body spray at GH¢1.50 and a cash of GH¢100.00 near a corner of a store and entered the store to buy mosquito coil.
The prosecution said Madam Teye came out of the store to find her bag stolen. She was informed the following day that the 11-year-old, had her bag. He was traced and arrested at the spot near the store where the complainant bought the mosquito coil.
The boy confessed to the crime and took the police to his house, where he pointed out Opata as the one keeping the stolen items. The complainant's phone was retrieved from Opata's room but he denied knowledge of the remaining items.
They were sent to the police station with the phone for investigations.
Inspector Badji said on October 26, at about 1:00p.m while the 11-year-old was behind the counter at the charge office, he escaped with the handcuff on his leg.
Whilst the police were going round looking for him, they had information that Padi was keeping him in his room. The handcuff was retrieved from Padi's room.
The prosecutor said they were arrested and charged with stealing and escaping from lawful custody, aiding and abetting of crime.