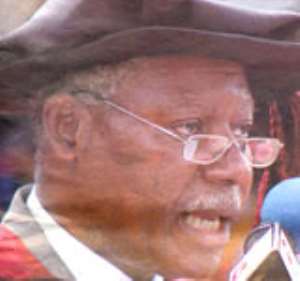 The University of Ghana, Legon, held its 60th Anniversary congregation in Accra on Saturday, pledging to reposition itself to provide the needed human and technical resources for the country's emerging petroleum sector.
The 1,988 graduands included the first graduating class awarded a Bachelor of Science degree in Engineering.
Professor Clifford Nii Boi Tagoe, Vice Chancellor of the University, acknowledged the roles universities should play in providing the human resource base and relevant research to meet expectations of the oil sector.
He said the University would therefore partner public and private sector institutions to identify the specific human resource need in order to map out strategies for a university-industry partnership.
Prof. Tagoe hinted that the Faculty of Engineering Sciences and the Ghana Oil and Gas Development Corporation would also mount a common programme on project management to help provide the needed expertise.
The University, he said, would also introduce additional programmes on petroleum.
Touching on other academic issues, Prof Tagoe expressed the University's commitment to improve facilities and academic standards.
He mentioned a number of ongoing projects including a multi purpose facility for the School of Performing Arts, Faculty of Law building, a central science laboratory and a Faculty of Arts building.
Prof. Tagoe said the appointment of Mr. Kofi Annan, former UN Secretary General as Chancellor of the University as well as the report of a visitation panel it tasked to make appropriate recommendations for improvement were all helping to uplift the University.
He commended the University Council, staff and students for their contribution to the smooth running of the University and urged the graduands to be good ambassadors to their alma mater and the nation.
Mr Lawrence Adu-Mante, Managing Director of Ghana Commercial Bank, who was the Guest of Honour for the congregation, stressed the need for education to be holistic to serve both the spiritual and industrial needs of society.
He however dismissed claims that graduates from the country's universities were not relevant for the job market and reminded the public that university education trained critical minds.
To demonstrate GCB's commitment to improve education, Mr Adu-Mante said the Bank had disbursed over 1.2 million Ghana cedis to fund a 2000–seating capacity lecture hall for the University.
He congratulated the graduands and advised them to remain focused to achieve their aim adding; "Short cuts are dangerous, quick money is short-lived, if you rush you will crash".
The GCB also presented a cheque of 5,000 Ghana cedis in support of needy but brilliant students.
The graduands were made up of the College of Agriculture and Consumer Sciences, the Faculties of Engineering Sciences, Law and Science and the Business School.
Nine point two per cent of the diploma graduands obtained distinctions, 11.5 per cent of the undergraduates had first class honours, 25. 66 obtained Second Class Upper whilst 49 per cent had Second Class Lower degrees.