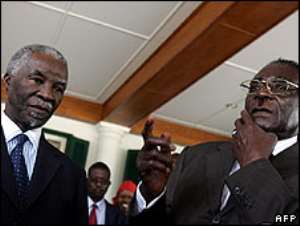 Southern African leaders are gathering in Johannesburg for talks aimed at breaking Zimbabwe's political deadlock.
President Robert Mugabe and opposition leader Morgan Tsvangirai have been unable to agree details of a power sharing deal following disputed polls.
South Africa has promised to take a tough stance, saying that Zimbabwe cannot afford to descend into conflict.
A top Zimbabwean government official said that Sunday's meetings would be "make or break".
The summit is also expected to discuss the ongoing violence in the Democratic Republic of Congo.
Sticking point
Mr Tsvangirai, leader of the Movement for Democratic Change (MDC), and Mr Mugabe signed the power-sharing deal in September, but have since been unable to agree on how to share cabinet posts.
The key sticking point at the latest round of talks was control of the home affairs ministry, which is responsible for the police.
South African President Kgalema Motlanthe, who will chair this emergency meeting of leaders from the Southern African Development Community (SADC), said Zimbabwe's internal disputes were "a luxury they really can least afford".
"They should be striving to form one government for the people of Zimbabwe so that they can really begin to tackle the challenges of economic recovery and political stability," he said.
The country is facing severe food shortages and rampant inflation but neither side appears to be willing to compromise.
The summit follows a smaller meeting at the end of October, which concluded without success.
A top Zimbabwean government official told AFP that Sunday's meetings would be "make or break".
He said that if Mr Tsvangirai and his party "continue to make outrageous demands, shifting goalposts", the ruling Zanu-PF party would go its own way, adding: "We don't care what the world will say."
Meanwhile, an opposition spokesman said that unless there was a "major shift" in Zanu-PF's position, the MDC would not accept the deal.
"We are not prepared to accept anything that is not worthwhile for Zimbabweans," he said.
MDC chairman Tendai Biti said that Zimbabwe had become "an embarrassment to every African".
"We need to close this chapter of Zimbabwe so that Zimbabwe can reconstruct, can restart and can rehabilitate itself and can move forward," he said.
The BBC's Peter Biles in Johannesburg says that despite the international pressure, there is little sense of optimism about the summit.
Last week, the MDC claimed that Mr Mugabe's party had "killed the dialogue" by unleashing "a new orgy of brutality and assaults across the whole country".
It said a Zanu-PF militia group had attacked at least 25 MDC supporters in the capital, Harare, and that state security forces had raided homes belonging to MDC supporters, arresting nine people including a two-year-old child.
Although the summit was called to discuss Zimbabwe, it is also expected to address the ongoing violence in the DR Congo, where tens of thousands of people have been displaced by fighting between rebel groups.
BBC