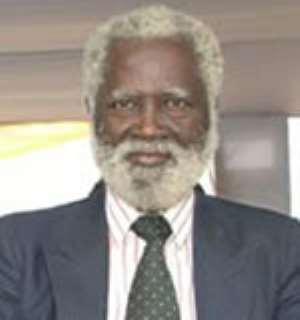 Ward-Brew speaks to TV3's Gifty Osei
In one of his few televised public appearances, the flag-bearer of the Democratic People's Party (DPP), Mr Thomas Ward-Brew, cast himself as an independent-minded reformer, destined to be President.
"If you're not destined to be president there is no way you'll be; if you're destined to be president, then you'll be," he told Gifty Osei host of Accra-based TV3's Vote for Meprogramme on Saturday.
The presidential hopeful posed as a fine gentleman, his face beaming with a long beard and a thick moustache that has almost completely assumed a grayish tinge.
Mr Ward-Brew answered a variety of questions spanning all facets of the economy and to most of these, he was elaborate, reiterating the thematic areas of his party's manifesto for the December polls.
He touched on the issues ranging from democracy to clinical policy guidelines on modern wound care.
His government would pursue "a philosophy of pragmatism," scooping the "best principles out of socialism, the best from capitalism" to build a robust economy.
"We've had a CPP administration and it left office with this country divided dangerously," he stated, adding that both the ruling New Patriotic Party and the opposition National Democratic Congress had failed to develop the fortunes of the citizenry.
In giving expression to his foreign policy stand point, Mr Ward-Brew said if voted into power, his government would not "be in serious conflict with the 'big powers'."
The DPP presidential hopeful cited the government of the Ghana's first President, Dr Kwame Nkrumah, as one that called the bluff of Western democracies because of certain unfriendly ideologies.
Responding to questions on how he would fix Ghana's economic woes against the backdrop of the global financial crisis, the flag-bearer who has 'God is Great' as his party's campaign refrain, served notice that he had the best package to restore hope and confidence in the average citizen.
In an address at his party's recent delegates' congress which elected him as flag-bearer, Mr Ward-Brew described the country as suffering "stunted development" and requiring "surgery."
Perhaps as one of the panaceas to what he said were the severe inefficiencies in the country he hopes to rule, the DPP leader said he would not hesitate to bring in experts from around the world to support his campaign for growth and development.
Although he considers government's health insurance programme as a step in the right direction, he believes too much energy is being expended in "fighting diseases instead of hunger."
He hopes to weave a country that is adequate and self-reliant in every resource, and even has plans to pay the jobless.
He said the unemployed would be supported so they don't become a problem to society.
"When you make them feel that they are part of the society, then anything you want them to do when you persuade them, they would do it," he said.
Mr Ward-Brew also stated that education would be a top priority when he assumes the Presidential Palace, which is billed to be commissioned on Monday.
He expressed dissatisfaction at what he said was the mismanagement of the Ghana Education Trust Fund (GETFund).
And with less than a month to the polls, the DPP has strong convictions of gathering enough support to secure the presidency for the first time.
Listen to attached audio
Story by Fiifi Koomson