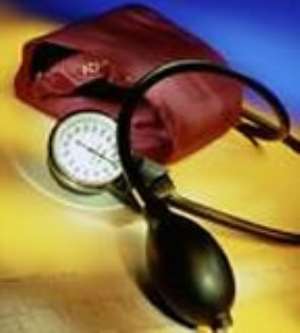 Okuapeman Senior High School on Saturday, beat three other schools to win this year's Cardiovascular Disease (CVD) Quiz competition held in Accra.
Okuapeman bagged 38 points to beat Achimota School, 36 points, Aburi Girls Senior High 32 points and Wesley Grammar Senior High 31 points to lift the ultimate prize of a 21-inch LG flat screen television and a DVD player.
A 21-inch LG flat screen television, a rice cooker and a DVD player and a DVD player were presented to the runner-up, second and third positions respectively, as their prizes.
The CVD Quiz competition, organised by the Ghana Society of Hypertension and Cardiology, was designed as a preventive health education programme to equip the youth with knowledge on cardiovascular diseases, to enable them to make informed health decisions.
Dr Francis Kwamin, President of the CVD Quiz competition said the time had come for Ghanaians to adopt healthy lifestyles, to avoid preventable diseases, which are expensive to treat.
Dr Kwamin warned that the National Health Insurance Scheme's budget could be over-stretched, if measures were not taken to control the increase in preventable killer diseases.
He cautioned the public to adopt good eating habits and also engage in physical activities to stay healthy.
This year's event, the second in a series, was sponsored by Sanofi-Aventis, a world class pharmaceutical company, which supports efforts at reducing CVD infections in Ghana and other parts of the world.
Backed by a world class research and development department, Sanofi-Aventis is developing new medicines in seven key therapeutic areas, which includes cardiovascular diseases, diabetes, central nervous system disorders and oncology among others.
Dr Frank Umeh, Medical Coordinator of Nigeria/Ghana zone of Sanofi-Aventis said currently, the company is in partnership with the Korle-Bu Teaching Hospital, in a research programme on Deep Vein Thrombosis and hoped to extend it to the Komfo-Anokye Teaching Hospital in Kumasi.