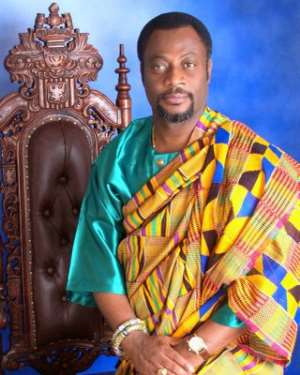 His Royal Majesty Drolor Bosso Adamtey I
As news of Senator Barack Obama's election as the 44th president of the United States reverberated around the world, millions of people were elated beyond words. In the small village of Kogelo, Kenya, Obama's paternal grandmother, Sarah Obama, exclaimed "I believe I will die of happiness!" , when she learned of her grandson's historic victory.
His victory is historic not only for the United States but also for persons like myself, who hail from west Africa, the full measure of what President-elect Obama's victory means to the world, and particularly to all Africans, cannot be measured.
Today for people all over the world, this victory gives new hope and inspiration to those who have doubted the true benefit of democracy and have wondered if they would ever see it manifest. Obama's election has encouraged cultures and traditions all around the world that perhaps maybe now, America will begin to take seriously what the rest of the world has always known, that every people, every culture and every race on this globe has intrinsic value that must be affirmed.
With U.S. policy in Africa having largely been fragmented and inconsistent at best for decades, there is an uncanny irony in the fact that the leader who will now shape the decisions for what America's policy will be as it relates to Africa now rests in the hands of one of Africa's own – the son of a Kenyan father. There is something cathartic about Obama's election that vindicates and reaffirms the value of people all over the world, not only black people. His election means that democracy is not only probable, but it is also practical. This is important for African nations who have often struggled to maintain a balance of traditionalism while embracing the full ideology of democratic values.
Obama knows that even though he has made history, this victory is not solely for him. He has conveyed clearly that it is also a victory for those who voted with the belief and the hope that there can be improvement in their lives and who want to give democracy another chance. These are the people who stand willing to work to make it happen.
Democracy has benefited greatly from this historic election. Former U.S. Secretary of State Colin Powell made a bold prediction last month when he publicly endorsed Obama's candidacy. He stated that an Obama election "will not only electrify the country, I think it'll electrify the world." If America is to achieve the vision of the founding fathers, she must look beyond the meaning of the moment. America did not just elect a 44th president; the world has also received a new leader.
Obama's election causes the world to pause and look at a man who personifies textbook qualities of leadership. Finally now, our hope in what's possible has been restored.
________________
The author is a coronated king from the West African nation of Ghana. He is the Suapolor (Waymaker) for the people of the Se (Shai) traditional area and is also a former special advisor to the United Nations Development Program for Africa, noted humanitarian, and scholar in international relations and social justice.