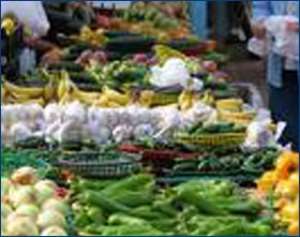 ESTERDAY A catalogue of countrywide activities was carried out to honour Ghana's indefatigable farmers. The day had actually been brought forward to avoid a clash between it and the December 7 polls.
For an activity which commenced twenty four years ago on a relatively low-key reaching a stage where it has become a major national phenomenon attests to the importance we accord the role of our tiring farmers.
Although rarely mentioned in our daily discussions, our farmers, most of them using comparatively primitive tools to produce the bulk of our food crops, hold a critical position in our lives.
But for them food security which determines our ability to hold our own in the comity of nations would have become a mirage, out of our reach.
The self-esteem which a sovereign nation requires to assert her position among others will be lost when her citizens are unable to feed themselves.
There have been instances in some nations where their governments have had to rely on handouts from outside their territories. There can be nothing as demeaning as this.
We have been spared this kind of humiliation, thanks to our farmers scattered throughout Ghana.
From food crops to catching fish on the high seas, they have continued to support us even as we in the urban settings sometimes tend to regard them with some contempt, the way we do rustic dwellers.   
The incumbent government, there is no doubt has witnessed the results of pragmatic and sincere policies towards improving the lot of farmers vis a vis their occupation.
When the government came up with the massive spraying of cocoa farms in the production areas, a section of the polarized country sneered at the move.
But the results afterwards have been astounding, pushing our cocoa production to an all-time high and with that progress a better foreign exchange standing.
Although there is still room for the improvement of the lot of the Ghanaian farmer, we are confident that with a stable political administration in place and above all continuity, it would not be long before we see improvement in the lives of our farmers.
We plead that all of us, not just our representatives in government take interest in agriculture because it appears that the occupation is not appealing to the youth.
With such a development it would not be long before we experience a shortage of hands in the production of food and cash crops.
The repercussions of such an unfortunate development, which we pray should not happen, can only be conjectured.
To attract the youth to this form of productive activity, policies that would change the perception about agriculture must be adopted.
When the youth see their colleagues veering into this occupation they can only be encouraged to follow suit.
One way of achieving this shift in perception is to make the occupation more lucrative than it is now.
Modernization of the occupation by way of mechanized farming should be encouraged through the active participation of our financial institutions.
Production of non-traditional exports and the addition of value to what we produce must also be given a look as we search for ways of giving a facelift to agriculture in the country.
It is our belief that there is light at the end of the tunnel considering that ongoing agricultural policies have been able to ward off the recent global increase in the price of food items.
That we weathered the storm shows the resilience of the economy alongside the contribution of our farmers. Ghanaian farmers, we salute you and encourage you to continue with the good work as new improved policies which would take farming to new heights await you in the coming days.