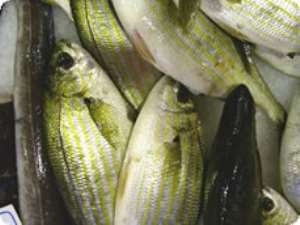 The government in collaboration with a Chinese company is investing in large scale fish farming in the Western Region.
This was disclosed by the Minister of Fisheries Mrs Gladys Asmah at the inauguration of the Eastern Region branch of the Fish Farmers Association at Koforidua at the weekend.
She said already over 2,000 acres of land had been acquired at Asemasa near Beposo to start the project.
China is the world's leading exporter of fish with annual export value of over $50 billion, mainly from fish farming with the main exportable cultured fish being tilapia which originated from Ghana.
Mrs Asmah said over the last two years, the Ghana government has invested over GH¢1.5 million into the fishery sector, which has made it possible for quite a number of fish farmers to benefit from inputs and credit scheme.
The Minister said many fish farmers had benefited from pond construction, fish seeds and fish feed credit.
Mrs Asmah said that recognised fish farmers' associations stood a better chance of benefiting from schemes established by her ministry and also having easy access to credit from financial institutions.
In a speech read on his behalf the Eastern Regional Minister, Mr Kwadwo Afram Aseidu, called for the exposure of the youth to the many advantages of the fish farming and urged them to take it up as a profession.
The regional chairman of the association, Mr Samuel Afum Ankrah called for the establishment of hatcheries to enable fish farmers to easily get access to fingerlings.
Source: Ghanaian Times