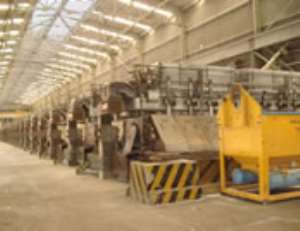 Haruna Idriss and Felix Owusu Agyapong comment on the sale
Parliament has approved the sale of 70% share of the Volta Aluminium Company to International Aluminum Partners, a multinational aluminium smelting company.
The house agreed to sell the 70% share for US$175 million although minority members of the chamber had raised objections.
Minority spokesperson on communications and MP for Tamale South, Haruna Idriss, had earlier requested the MPs to suspend the approval of the deal citing concerns about certain aspects of the agreement.
Mr Idriss said a clause in the agreement that "The Volta River Authority shall enter into an irrevocable power agreement with the contractor," might " jeopardise and affect the sustenance of Volta River Authority as an institution."
He said another provision in the deal that the "second chunk of the money may only be payable contingent on the fact that two of the smelters must be effectively operational" made the deal a bad one.
In justifying the sale however, energy minister Felix Owusu Agyapong described the deal as a good one.
He said the company was bought for only US$20 million and that selling 70% of it for the said amount was the best deal any government could secure for the company.
"Ghana was not the owner of VALCO; the NPP government made Ghana owner of VALCO, and we are now selling 70% of it for 175 million. That alone is a bonus," he stated.
Government has said it is offloading the shares to boost the aluminium industry in the country. Listen to attached audio
Story by Fiifi Koomson